You are here:
AMBA ATB Verification IP
Truechip's AMBA ATB Verification IP provides an effective & efficient way to verify the components interfacing with AMBA ATB interface of an ASIC/FPGA or SoC.

Truechip's AMBA ATB VIP is fully compliant with standard AMBA 3 ATB (aka ATB v1.0) and AMBA 4 ATB (aka ATB v1.1) protocol. This VIP is a light weight VIP with easy plug-and-play interface so that there is no hit on the design time and the simulation time.
Features
Compliant to AMBA 3 ATB (aka ATB v1.0) and AMBA 4 ATB (aka ATB v1.1) Protocol.

Parameterized address and data width and hence capable of configuring all possible ATB and TPIU bus widths.

Bus Monitor is easy to Plug-in and is complaint to standard

specification.

Supports static and dynamic protocol checks

Capable of performing register value checks for register bank modified by APB interface.

Supports Masking of any specific error.

Provides a full bus coverage analysis.

Supports multi-master mode

Supports valid data capture functionality

Supports variety of error injection mode

TPIU slave supports all Flushing modes:

- Manual Flush, Flushin , Trigin

TPIU slave supports all three modes :

- Normal, Continuous (Formatter supported) and Bypass

Supports all patterns and modes of Pattern Generator

Support for TPIU Lite is also available.
Benefits
Available in native SystemVerilog (UVM/OVM/VMM) and Verilog

Unique development methodology to ensure highest levels of quality

Availability of Compliance & Regression Test Suites

24X5 customer support

Unique and customizable licensing models

Exhaustive set of assertions and coverage points with connectivity example for all the components

Consistency of interface, installation, operation and documentation across all our VIPs
Deliverables
Test Suite:

Basic and Directed Protocol Tests

Random Tests

Error Scenario Tests

Assertions & Coverage Tests

User Guide and Release Notes
Block Diagram of the AMBA ATB Verification IP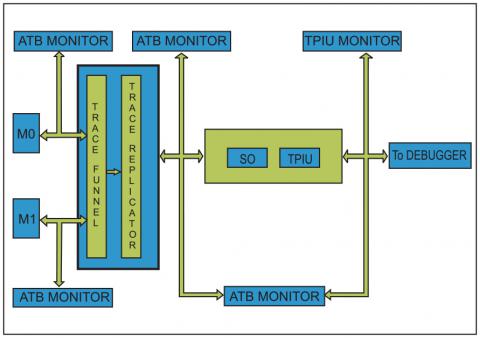 ---
View AMBA ATB Verification IP full description to...
see the entire AMBA ATB Verification IP datasheet
get in contact with AMBA ATB Verification IP Supplier