You are here:
Release-9 Compliant WCDMA – HSDPA & HSUPA;
Lekha's WCDMA Solution is a complete Software solution developed in C and Matlab which can be very easily ported onto a physical layer platform to realise both BS and MS.
Features
DL peak data rates of 84 Mbps

UL peak data rates of 23 Mbps

Dual Carrier in both DL and UL 2X2 MIMO

TX and Rx Diversity Techniques

Transmit Power Control

QPSK/16-QAM/64-QAM mod/demodulations schemes

CPC, DTX and DRX operations

Type 3i interference cancellation receiver solutions

Tested in with various channel models with configurable SNR

Xml based configuration management

CLI based debug and user interface
Benefits
Accelerate product development with complete solution in C and Matlab.

Test reports are generated using third party test equipment and Lekha's test solution Wave Guru™

Customization support and porting support across different DSP and FPGA architectures

Support for AD9361 radio
Deliverables
Licensable in MATLAB or C source code

Detailed Architecture and Design document
Block Diagram of the Release-9 Compliant WCDMA – HSDPA & HSUPA; Software IP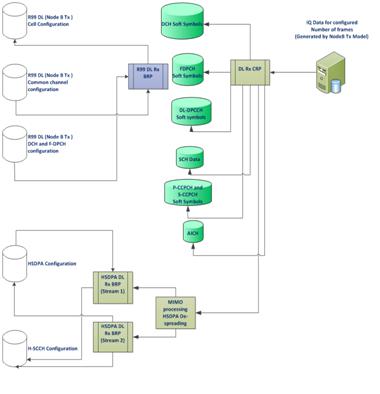 ---
View Release-9 Compliant WCDMA – HSDPA & HSUPA; full description to...
see the entire Release-9 Compliant WCDMA – HSDPA & HSUPA; datasheet
get in contact with Release-9 Compliant WCDMA – HSDPA & HSUPA; Supplier