You are here:
16-bit audio-rate ADC
KAAD1003 is an ultra-low-power silicon proven ADC designed to achieve excellent performance for mobile audio applications. The ADC uses proprietary Kapik technology to achieve significantly reduced power consumption while achieving outstanding audio fidelity in the digitized output. The ADC uses a △Σ architecture to deliver 92dB dynamic range while having a peak THD+N of better than 0.004% (A-weighted) over 24kHz.

The ADC consumes only 110μA during nominal operation and 0.3μA during power-down. The low-voltage architecture requires only 1.1V for VDD and thus can operate directly from a battery. The combination of low power consumption and low voltage requirements make KAAD1003 an ideal choice for low power mobile audio systems.
Features
Ultra low power audio ADC: only 110μA current from a 1.1V supply.

92dB dynamic range (A-weighted).

Full audio bandwidth of 24kHz; can also have 48kHz bandwidth.

1.1V low-voltage design; can connect directly to battery.

Less than 11μV RMS input referred noise (differential, A- weighted) over 24kHz bandwidth.

Less than 0.004% THD+N (A-weighted) for -1dBFS 3kHz input.

89dB peak SNDR over 24kHz bandwidth.

0.3μA in power down mode.

△Σ topology for robust performance and yield.

Continuous time architecture includes built in 3rd order anti-aliasing filter.

Integrated reference voltages and biasing.

Compact area: 1250μm x 480μm (including internal decoupling capacitors for references)

65nm LP TSMC process, 5 metal layers
Deliverables
GDS2 of all blocks.

Documentation to facilitate integration with your existing system.

Support hours can be purchased to assist with design integration.

Design can easily be ported to desired foundry and node.
Applications
Consumer mobile audio systems

Hearing aid modules

Digital active-noise canceling headphones

Digital microphones
Block Diagram of the 16-bit audio-rate ADC IP Core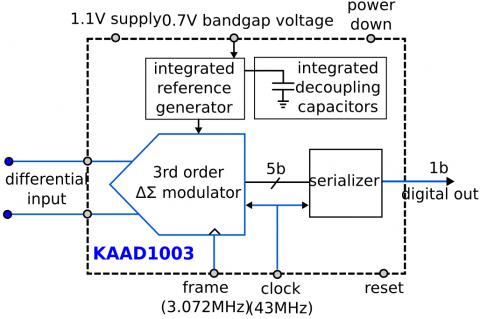 ---
View 16-bit audio-rate ADC full description to...
see the entire 16-bit audio-rate ADC datasheet
get in contact with 16-bit audio-rate ADC Supplier