You are here:
8-Bit CPU Cost, 32-Bit CPU Efficiency
CK802 is a low cost and low power embedded CPU core. It offers 32-bit performance at the cost of 8-bit CPU. Based on C-SKY V2 instruction set architecture and 16/32-bit variable length instruction system, CK802 achieves benefits as extremely low cost, low power and high code density. CK802 family includes basic core (CK802), JAVA acceleration (CK802J), physical attack defensing extension (CK802S), and trusted execution extension (CK802T).

Features
Reduced instruction set architecture, 32-bit data, 16/32-bit variable length instructions;

0.93 DMIPS/MHz

2-stage low cost pipeline, single issue in-order execution;

Static branch prediction;

One-cycle execution delay of most instructions and data forwarding technology;

3 bus interfaces including instruction bus, data bus and system bus, with AHB-Lite bus protocol;

Multi-mode dynamic power management;

13 cycles interrupt latency from interrupt asserting to interrupt handler processing;

Memory access protection, 0~8 memory protection regions;

Tightly-coupled system IP, including vector interrupt controller, timer and power management unit;

Physical attack protection technology designed to prevent time analysis attack, power analysis attack, fault injection and stack overflow attack;

Trusted execution technology against software attack;

JAVA Accelerator technology for JAVA execution acceleration;

Program signature technology to prevent malicious tampering;

Power control technology to control average power and peak power;

Configurable cache;

Configurable hardware debugger supporting on-chip hardware debugging;
Applications
Smart card applications;

Intelligent metering products;

Low-cost microcontrollers;

Wireless sensor networks, etc.
Block Diagram of the 8-Bit CPU Cost, 32-Bit CPU Efficiency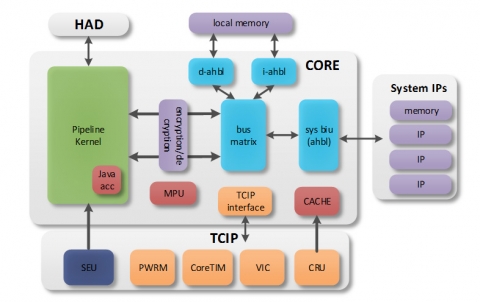 ---
View 8-Bit CPU Cost, 32-Bit CPU Efficiency full description to...
see the entire 8-Bit CPU Cost, 32-Bit CPU Efficiency datasheet
get in contact with 8-Bit CPU Cost, 32-Bit CPU Efficiency Supplier