You are here:
CAN Controller (70022)
The CAN Controller is a synthesizable IP block providing Controller Area Network (CAN) functionality compliant with the CAN Specification Revision 2.0 Part B. Proven in high-volume standard devices from National Semiconductor, the CAN Controller features a programmable bit rate to support applications that require a high-speed (up to 1 Mbit/s) or a low-speed CAN interface. Fifteen message buffers, each configurable for transmit or receive, and programmable acceptance filtering provide support for both Full-CAN and Basic-CAN operation.

The host interface of the CAN Controller complies with the AMBA 2.0 APB protocol. Host-accessible control registers provide CPU control of bit rate, diagnostic functions, enabling/disabling the CAN Controller, CAN pin logic level, CAN bit time partitioning, incoming message filtering, transmit message prioritization, and enabling/disabling interrupts. Status registers provide CAN node, interrupt, and error/diagnostic status.

The CAN bus interface consists of serial transmit and receive signals that connect to an external transceiver through chip-level I/O pads. To reduce chip-level pin count, the transmit and receive signals can be shared with other on-chip functions through a General Purpose I/O (GPIO) Controller.


Features
Programmable bit rate—up to 1 Mbit/sec

Standard or extended frames

15 message buffers—each configurable for transmit or receive

Remote frame support

Automatic transmission after reception of a Remote Transmission Request (RTR)

Automatic receive after transmission of an RTR

Programmable acceptance filtering

Global mask for message buffers 0–13

Individual mask for message buffer 14

Programmable transmit priority

Time stamp counter—programmable for automatic reset on transmit/receive

Interrupt capabilities

Interrupts available for message buffer transmit/receive and CAN error conditions

Interrupts can be individually enabled/disabled

Diagnostic Functions

Error identification

Loopback (internal or external)

Listen-only mode for initialization
Deliverables
Verilog source code

Integration testbench and tests

Documentation

Scripts for simulation and synthesis with support for common EDA tools
Block Diagram of the CAN Controller (70022) IP Core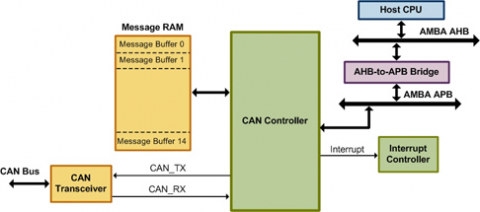 ---
View CAN Controller (70022) full description to...
see the entire CAN Controller (70022) datasheet
get in contact with CAN Controller (70022) Supplier