You are here:
Dual-CORE HEVC+H.264 combined codec for 8Kp60
WAVE541C is a dual-CORE codec IP, optimally architected for real-time encoding or decoding video at 8K60 in either HEVC or H.264 standards.

SoCs powered with WAVE541C will bring 8K content readiness to video generating devices such as action cams, mobile video recorders, 360 VR devices and many more. This readiness will enable contents creators to generate videos and share them on video platforms like YouTube, which already supports 8K video streaming.

In terms of quality, considering real-time encoding at such high resolution and frame rate on portable devices, the best possible video quality is being achieved, and in terms of class competition, WAVE541C IP is designed to compete with x.264/x.265 medium preset on PC or Server.

WAVE541C: Dual-CORE HEVC+H.264 combined codec IP; Encode and Decode capability of 8Kp60 content at 1GHz using 12nm or higher technology
Features
Frame Buffer Compression

Lossless with efficient memory access patterned compression technology

Low latency tolerance

Frame-based processing

Promising the lowest burden to the host processor for encoding and decoding operation

Smart encoding scheme

ROI(Region Of Interest) encoding

Background detecting

Supported standards

HEVC - Main/Main 10 Profile, Level 5.2 High-tier

H.264 - High/High 10 Profile, Level 6.0

Codec type

Format

4:2:0, 4:2:2 (by conversion)

Bit-depth

Max. resolution

Performance

Pic. Type
Deliverables
Fully verified synthesizable RTL source code

RTL test bench

S/W User Guide

Datasheet/Integration Guide

Verification Guide

Evaluation platform
Block Diagram of the Dual-CORE HEVC+H.264 combined codec for 8Kp60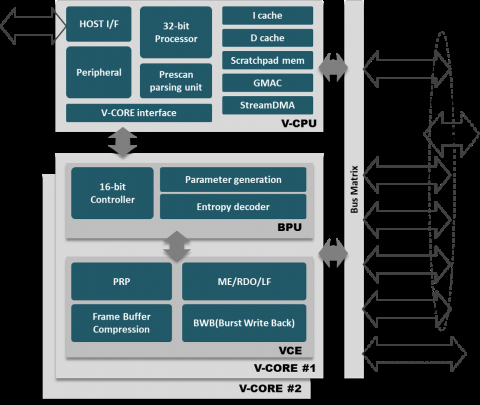 ---
View Dual-CORE HEVC+H.264 combined codec for 8Kp60 full description to...
see the entire Dual-CORE HEVC+H.264 combined codec for 8Kp60 datasheet
get in contact with Dual-CORE HEVC+H.264 combined codec for 8Kp60 Supplier