You are here:
GDDR6 and GDDR5X PHY IP
The Six Semiconductor Inc's GDDR6 PHY IP is designed to be fully compliant to multiple JEDEC standards for GDDR6/GDDR5X support, with maximum data rate up to 16Gbps in GDDR6 mode. With full backward compatibility to the GDDR5X standard, the PHY provides flexible memory options for SOC platforms to optimize for specific price/performance target. The PHY is constructed as a two 16-bit instance, complete with Command Address interface as well as shared PHY components.

The 2x16-bit GDDR6 PHY instance is complete with built-in hardware logic for CA, WCK2CK, Read and Write data eye training, as well as hardware for continuous phase tracking to compensate supply voltage and temperature drift.

The GDDR6 PHY IP is delivered in both Soft-IP and Hard-IP components. The soft-IP component can be hardened upon request. For top/bottom die edge vs left/right die edge PHY instantiations, a different hard-IP view is available and would be required.
Features
2x16-bit PHY instance

Compliant to JEDEC standards: JESD250 (GDDR6), JESD232A (GDDR5X)

Data rates up to 16Gbps(GDDR6) and 12Gbps(GDDR5X)

PHY Independent mode training and calibration

Continuous phase correction

Supports multiple frequency states with fast switching time

Memory controller interface based on DFI standard

JTAG interface for test mode control

Channel equalization with transmit de-emphasis and receive CTLE/DFE

Supports both POLY orientations

ESD compliant to HBM2KV & CDM500V

Full speed internal and external loopback

Self-contained PHY testing

I/O bypass for boundary scan

Analog and digital observation I/Os
Benefits
Schematic and layout co-design resulting in smallest and most power efficient PHY

Max data rates achieved with standard package and PCB materials and design rule

Designed by team of engineers who has successfully deployed GDDR5 memory interface on multiple generations of world class GPU
Deliverables
Documentation

PHY Databook

Implementation Guideline

Package and PCB Design Guideline

Test and Characterization Guideline

Hard IP Deliverables:

Behavioral model (Verilog)

Layout abstract (LEF)

Timing models (lib/db)

Layout (GDSII)

LVS netlist (CDL)

Physical verification reports

Soft IP Deliverables:

Synthesizable RTL (Verilog)

Synthesis and STA constraints

Example testbenches
Applications
Deep learning accelerator

Datacentre networking switches

Cryptocurrency ASICs

Autonomous driving systems
Block Diagram of the GDDR6 and GDDR5X PHY IP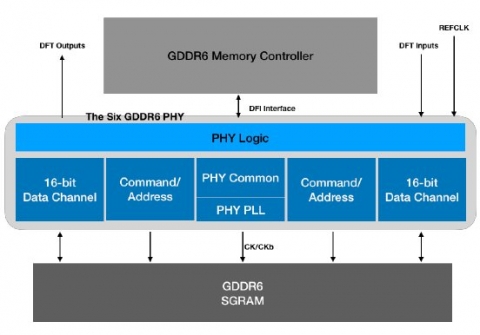 ---
View GDDR6 and GDDR5X PHY IP full description to...
see the entire GDDR6 and GDDR5X PHY IP datasheet
get in contact with GDDR6 and GDDR5X PHY IP Supplier