You are here:
HCS08 Processor (70025)
The HCS08 IP is the same 8-bit HCS08 microcontroller core implemented in Freescale's MC9S08xx family devices. Building on decades of leadership in the 8-bit microcontroller domain, the HCS08 extends Freescale's popular 68HC08 architecture, offering improved debug support and additional addressing modes to improve C code efficiency. The HCS08 is fully object code compatible with Freescale's HC08 and HC05 based micro-controllers, both well-proven workhorses in 8-bit control applications.

The HCS08 also provides a migration path to Freescale's 32-bit ColdFire® architectures. HCS08 and V1 ColdFire use the same single-pin debug interface and share a common set of development tools. With Freescale's CodeWarrior integrated development environment, assembly code for the HCS08 can be re-targeted to V1 ColdFire with just a few mouse clicks.

Features
8-bit processor core with 16 or 17-bit address bus, depending on memory configuration

64-KB accessible program/data memory space (extended to up to 128 KB by an optional integrated Memory Management Unit (MMU))

68HC08 instruction set with added BGND instruction

Additional addressing modes for the LDHX, STHX, and CPHX instructions improve C code efficiency

48 vectors for interrupt and reset sources

Low-power mode support through the execution of the STOP and WAIT instructions

Illegal address detection and management

Security management

Suspend mode to support initialization of memories before executing the first instruction

Debug support through Background Debug Controller (BDC) module with single-wire interface to debug host

Optional Debug (DBG) module for on-chip trace and enhanced breakpoint capabilities

Fully synthesizable, synchronous, and scannable design

Functional I/O signals registered at the core boundary
Deliverables
Verilog source code

Integration Testbench and Test-suite

Comprehensive Documentation

Scripts for simulation and synthesis with support for common EDA tools
Block Diagram of the HCS08 Processor (70025) IP Core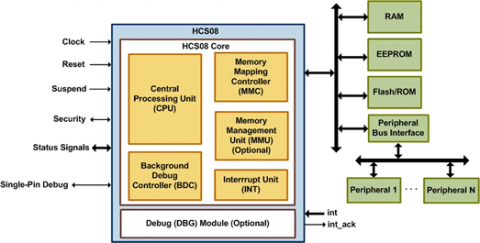 ---
View HCS08 Processor (70025) full description to...
see the entire HCS08 Processor (70025) datasheet
get in contact with HCS08 Processor (70025) Supplier