You are here:
I3C Dual Role Master
I3C is a new a standard from the MIPI Alliance that unifies and extends the legacy interfaces of I2C and SPI and adds new powerful features to support modern mobile, automotive, and IOT applications. I3C products from Silvaco provides customers with a range of products that allow customers to take advantage of the higher performance and lower power features that come with I3C.

The I3C Dual-Role Master controller is a highly configurable I3C master that can be used in microcontroller based environments to provide I3C connectivity to any device. It contains master capabilities as well as the same features as the I3C Advanced Slave. It can be configured in a number of different ways to allow the core to use the minimum amount of logic to reduce both area (cost) and power.
Features
Highly configurable core that allows customer to minimize unneeded logic

Compliant with the latest version of the MIPI I3C specification

Legacy I2C coexistence, including I2C messaging

Dynamic addressing

Multi-drop capability

Multi-master capability

Standard data rate (SDR)

Error detection types (S0-S6, M0-M2)

Advanced I3C features

Hot join

Hot-join Dynamic Address Assignment

Secondary Master

SDR-only Secondary Master

Status I2C address support (Slave and SDR only Slave)

Support for I2C pads with 50ns glitch detector

In-band interrupts

Asynchronous time stamping (Mode 0)

High speed mode (HDR-DDR)

Additional CCC's (ENTAS1-2, ENEC/DISEC, SET/GET Max, GETMXDS)
Deliverables
Verilog RTL source code

System Verilog test bench with test suites

System Verilog I3C Master bus functional model

System Verilog I3C Slave bus functional model

System Verilog I3C Bus Monitor

Provided as source code, no additional licenses required

Master controller (binary) for developing/testing FPGA prototypes

Documentation including User's Guide and Integration Guide

Technology-independent synthesis constraints
Applications
Mechanical sensing (Gyroscopes, MEMS, etc.)

Environmental sensing (Light, pressure, temperature, humidity, etc.)

Biometrics (Fingerprinting, glucose, heart rate, breathalyzer, etc.)

Communication (Near-field sensors, infrared remotes, etc.)
Block Diagram of the I3C Dual Role Master IP Core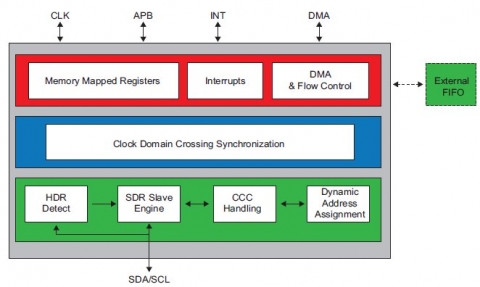 ---
View I3C Dual Role Master full description to...
see the entire I3C Dual Role Master datasheet
get in contact with I3C Dual Role Master Supplier