You are here:
JESD204B Controller IP core
Comcores' JESD204B IP core is a fully featured silicon agnostic implementation of the JEDEC JESD204B standard realized in Verilog and targeting any ASIC, FPGA or ASSP technologies. The core enables quick and reliable deployment of both the transmitter (TX) and the receiver (RX) and optionally includes mapping/de-mapping functionality. It provides line-speeds of up to 12.5 Gbps on 1-8 lanes while guaranteeing data alignment and synchronization.
The core (without mapping functionality) is by default interfacing to Xilinx AXI4-stream and with its extreme flexibility and reduced logic consumption, the JESD204B IP core is the perfect match whether going for FPGA or ASIC.
The implementation is resource efficient, has a non-limited feature set and comes at very attractive commercial terms.

Features
Standard version: JESD204B.01, January 2012

Versions Available: Transmitter / Receiver

Silicon Agnostic: Targets ASIC, ASSP, FPGA

Language: Verilog

Line rates: 12.5 Gbps

Lanes (L):1-8

Converters (M): 1-4

Sample widths: N ≤ 16 bits / N'≤ 20 bits

HD Mode: Supported

Data Scrambling: Supported

Device Type: MCDA-ML

Mandatory Test Cases: Supported

Classes supported: 0/1/2
Benefits
Designed in generic Verilog

Silicon Agnostic- test on FPGA and take to ASIC flow

Interfaces directly to Xilinx

Easy configuration for either RX or TX operation

Mapper/de-mapper functionality included

Modular design with highest degree of flexibility

Delivering 12.5 Gbps lane speeds on up to 8 lanes

Deterministic Latency enables use for delay sensitive applications
Deliverables
IP core: RTL is delivered as source code (encrypted or un-encrypted) or netlist

User Manual: Describing among others top Level I/O's definition, registers, clocking strategy, functional description

Test bench: In System Verilog UVM - offered through partners

Test cases: Delivered with System Verilog UVM

HW Tests: HW verification guide (optional)
Applications
Wireless Base Stations

Baseband

UItrasound

Medical Imaging

Military communication

General data communication with JESD204B enabled ADC's or DAC's
Block Diagram of the JESD204B Controller IP core IP Core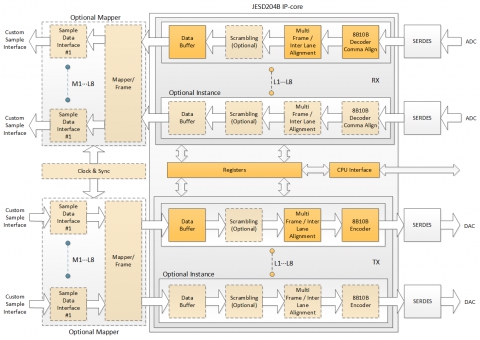 ---
View JESD204B Controller IP core full description to...
see the entire JESD204B Controller IP core datasheet
get in contact with JESD204B Controller IP core Supplier