You are here:
Low-cost embedded CPU core
CK803S is a low-cost embedded CPU core delivered to the field of microcontrollers by its low cost, low power and high performance.CK803S implements most of the CSKY V2 instructions, DSP acceleration instructions and single-precision floating point instructions. Furthermore, CK803S adopts a low cost 3-stage pipeline and user-extensible storage architecture. CK803S family includes basic core (CK803S), electromechanical and audio enhancement (CK803SE), floating point extension (CK803SF), and trusted execution extension (CK803ST).

Features
Reduced instruction set architecture, 32-bit data, 16/32-bit variable length instructions;

Performance: 1.5DMIPS/MHz;

3-stage pipeline, single issue in-order execution;

Static branch prediction;

One-cycle execution delay of most instructions;

Back-to-back LD/ST data access;

3 bus interfaces including instruction bus, data bus and system bus. Instruction bus/data bus adopt AHB-Lite protocol, while system bus adopting AHB or AHB-Lite protocol;

Multi-mode dynamic power management;

13 cycles interrupt latency from interrupt asserting to interrupt handler processing;

Memory access protection, 0~8 memory protection regions;

Tightly-coupled system IP, including vector interrupt controller, timer and power management unit;

Supports single-precision floating point arithmetic;

Supports DSP arithmetic acceleration;

Trusted execution technology against software attack;

Configurable cache;

Configurable hardware debugger supporting on-chip hardware debugging;
Applications
Microcontrollers

Automotive electronics

Industrial control

Wireless network and various portable applications
Block Diagram of the Low-cost embedded CPU core IP Core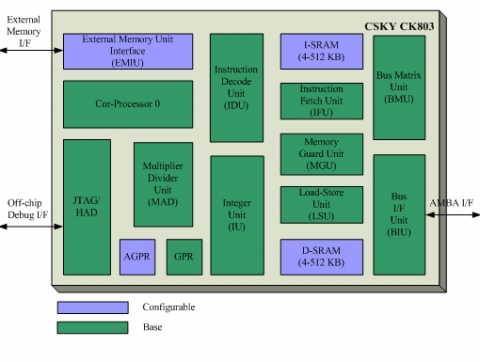 ---
View Low-cost embedded CPU core full description to...
see the entire Low-cost embedded CPU core datasheet
get in contact with Low-cost embedded CPU core Supplier