You are here:
LTE eNB and Remote Radio Unit Applications
LTE eNB reference design is adopted by OEMs to develop military communication network. There is vast experience of supporting customers for field trials, productization and manufacturing activities.

Current design supports up to 4 transmit and 4 receiver antenna ports. There is work in progress to support muMIMO and beamforming features with more than 8TX and 8RX antenna ports.
Features
3GPP Release 10 and Release 13 compliant

4 users per TTI are scheduled

Up to 128 active users supported

Up to 4×4 MIMO, 4 Tx and 4 Rx

5,10 and 20 MHz bandwidth support

TDD/FDD modes are supported

All 3GPP RF bands are supported.

Synchronization – IEEE1588
Benefits
Remote logging with multiple hierarchical and module-wise log levels available. Logging mechanism is built so that it does not affect realtime operations. Simple and interactive CLI is supported for changing parameters and obtaining statistics.

The reference solution includes an interactive configuration tool with which User can manage all standard configurations. There is also an integrated GUI to manage multiple eNBs, configure them and display logs from each of them. eNB reference design supports SNMPv3 to integrate with NMS tool to enable monitoring and configuration management.
Deliverables
Binary or Source License PHY/L1 Layer.

Binary or Source License of L2 and L3 software.

Configuration Tool

Test Scripts and test reports.

Architecture and Design Documentation

User manual

One set of Baseband Processing and Radio Cards

Radio Front End with RF power 10W per antenna.

HW design license for Baseband HW, Radio Card and Radio Front End.
Block Diagram of the LTE eNB and Remote Radio Unit Applications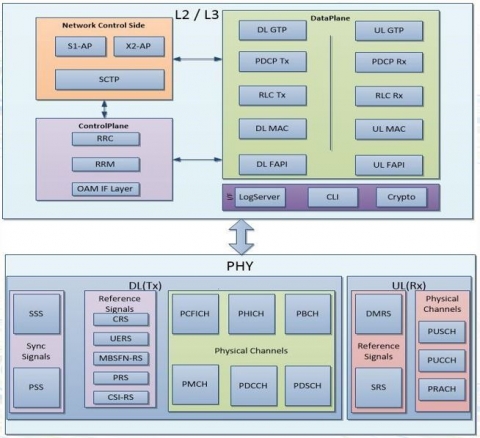 ---
View LTE eNB and Remote Radio Unit Applications full description to...
see the entire LTE eNB and Remote Radio Unit Applications datasheet
get in contact with LTE eNB and Remote Radio Unit Applications Supplier