You are here:
MIPI C-PHY and D-PHY Combo
The MXL-CPHY-DPHY-UNIV is a high-frequency low-power, low-cost, source-synchronous, physical Layer. The PHY can be configured as a MIPI Master or MIPI Slave supporting camera interface CSI-2 v1.2 and display interface DSI v1.3 applications in the D-PHY mode. It also supports camera interface CSI-2 v1.3 and display interface DSI-C v1.0 applications in the C-PHY mode. The High-Speed signals have a low voltage swing, while Low-Power signals have large swing. High-Speed functions are used for High-Speed data traffic while low power functions are mostly used for control.
Features
Dual mode PHY can support C-PHY and D-PHY

Supports MIPI Specification for D-PHY Version 1.2

Supports MIPI Specification for C-PHY Version 1.0

Four Lane in D-PHY mode

Three Lane in C-PHY mode

Supports both high speed and low-power modes

D-PHY: 80 Mbps to 2.5Gbps data rate per lane in high speed mode

C-PHY: up to 2.5G symbol/sec

10 Mbps data rate in low-power mode

Low power dissipation

Loopback testability support

Optional resistance termination calibrator

Deskew calibration support in D-PHY
Benefits
Compatible with both C-PHY 1.0 and D-PHY 1.2 specifications for added flexibility
Deliverables
Specifications

GDSII

LVS netlist

LEF file

Verilog Model

Timing Model

Integration Guidlines

RTL

Documentation

One year support
Applications
Block Diagram of the MIPI C-PHY and D-PHY Combo IP Core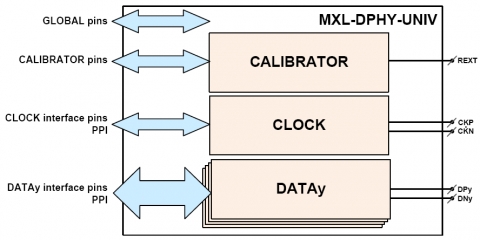 ---
View MIPI C-PHY and D-PHY Combo full description to...
see the entire MIPI C-PHY and D-PHY Combo datasheet
get in contact with MIPI C-PHY and D-PHY Combo Supplier