You are here:
MIPI CSI-2 Master PHY for GlobalFoundries 22FDX
The MXL-DPHY-CSI2-TX is a high-frequency low-power, low-cost, source synchronous, Physical Layer supporting the MIPI Alliance Specification for
D-PHY v2.1, which is backward compatible with MIPI Specification for
D-PHY v1.2. The IP is configured as a MIPI master optimized for CSI-2SM
(Camera Serial Interface) applications.
The High-Speed signals have a low voltage swing, while Low-Power signals have large swing. High-Speed functions are used for high-Speed data traffic while low power functions are mostly used for control.

Features
Consists of 1 Clock lane and up to 4 Data lanes

Supports MIPI Alliance Specification for D-PHY Version 2.1

Supports both high speed and low-power modes

80 Mbps to 2.5Gbps data rate in high speed mode

10 Mbps data rate in low-power mode

Low power dissipation
Benefits
Comprehensive embedded DFT features for allowing cost-effective high-volume manufacturing tests

The D-PHY system is provided as a combination of Soft IP views (RTL, and STA Constraints) for Digital Module, and Hard IP views (GDSII/CDL/LEF/LIB) for the Mixed Signal Module. This unique offering of Soft and Hard IP permits architectural design flexibility and seamless implementation in customer-specific design flow.
Deliverables
Datasheet

GDSII and LVS Netlist

LIB & LEF

Integration Guideline

Timing Model and Behavioral Model

Physical Verification Report

RTL

One year support
Applications
Mobile

Automotive

IoT

Consumer Electronics

VR

AR
Block Diagram of the MIPI CSI-2 Master PHY for GlobalFoundries 22FDX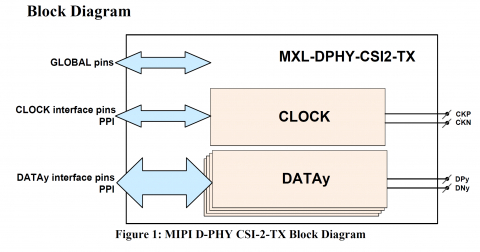 ---
View MIPI CSI-2 Master PHY for GlobalFoundries 22FDX full description to...
see the entire MIPI CSI-2 Master PHY for GlobalFoundries 22FDX datasheet
get in contact with MIPI CSI-2 Master PHY for GlobalFoundries 22FDX Supplier