You are here:
RivieraWaves Wi-Fi 802.11n 1x1 20/40MHz
The RivieraWaves Wi-Fi IP family offers a comprehensive suite of IPs and platforms for embedding Wi-Fi connectivity into SoCs/ASSPs addressing a broad range of applications.

This RW-N 802.11n IP is part of the RivieraWaves Wi-Fi Low Power category, targeted at IoT peripherals, including wearables, medical devices, wireless audio and other use cases where power and cost are critical factors. This is the industry's smallest footprint and lowest power Wi-Fi IP compliant with 802.11n 1x1 20/40MHz STA.

The CEVA RW-N IP consist in 802.11n 1x1 MAC and modem cores, supporting both STA and AP modes. The MAC is controlled by a LMAC+UMAC (aka FullMAC) software protocol stack. The IP is provided with an integration-ready processor and operating-system- agnostic platform, simplifying deployment in SoC/ASSP designs. The Wi-Fi software protocol stack can be executed on any processor such as ARM, ARC, Andes, Cortus, RISC-V and others.

The RW-N platform can be used in a standalone single processor chip or integrated into a bigger SoC such as a microcontroller, an application processor or a multi-standard wireless combo.

For more comprehensive solution, the RW-N IP is well complemented with CEVA-DSP such as the CEVA TeakLite 4 or CEVA-X2, to execute audio processing or other always on sensor hub.

Silicon independent, the RW-N Low Power IP supports several radio IPs from various partners such as Catena. Other RF can be easily supported on customer demand.

Features
802.11n MAC:

The RW-N MAC core implements the 802.11a/b/g/n standards supporting data rates of up to 150Mbps. It also supports the 802.11e standard (QoS) and the 802.11i standard (Security) extensions.

RivieraWaves' profound expertise in wireless communications resulted in the highly optimized MAC core with special focus on low memory and MIPS requirements while maintaining a small gate count. The MAC core interfaces to the ARM standard AMBA bus.

802.11n Modem:

The RW-N Low Power hardwired modem core is optimized for use with the RW-N MAC IP to form a low power and cost effective 802.11n solution. The supported features are:

Modulation Coding Schemes (MCS) from 0 to 9

20/40MHz bandwidths

Full implementation of OFDM processing up to the radio interface:

Scrambling

FEC coding, Viterbi & LDPC encoding/decoding

Interleaving

FFT

Timing, phase and frequency synchronization

Channel estimation & compensation

Reference digital front end with filtering, radio controller and software defined AGC/CCA state machine for highest flexibility
Benefits
low power

small area

low MIPS requirement
Deliverables
hardware: verilog RTL, testbench, compilation, simulation and synthesis scripts

software: C

documents

test tool running on Windows
Applications
Power sensitive IoT applications such as wearable, smartwatch, digital camera, smart home & industrial wireless sensors, entry market smart phones and tablets.
Block Diagram of the RivieraWaves Wi-Fi 802.11n 1x1 20/40MHz IP Core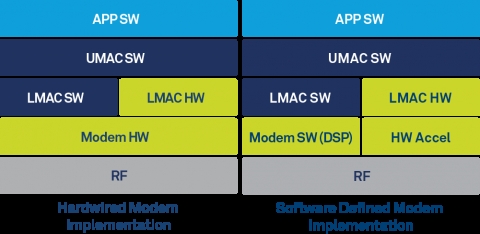 ---
View RivieraWaves Wi-Fi 802.11n 1x1 20/40MHz full description to...
see the entire RivieraWaves Wi-Fi 802.11n 1x1 20/40MHz datasheet
get in contact with RivieraWaves Wi-Fi 802.11n 1x1 20/40MHz Supplier