You are here:
Scalable AES-CTR/GCM/GMAC 10 to 100 Gbps
AES-GCM is an authenticated encryption algorithm designed to provide both authentication and privacy. The GCM is based on CTR Mode (Counter Mode) for encryption and a Galois field multiplication for authentication.

The unique architecture enables very high throughput from 10 Gbps to 100 Gbps while maintaining an optimal resource usage. The scalability of the IP enables to find a trade-off between resources, performance and technology. It is very easily portable to ASIC and FPGA (Xilinx, Altera) technologies. The BA415 addresses a wide range of networking applications where security is a concern.
Features
Off-the-shelf, predictable and silicon-proven solution

Portability: ASIC, Altera and Xilinx

Compliant with NIST SP800-38D

Unique balance between area and performances

Supports small packets (64 bytes) without performance penalty

Support key update on the fly between packets

Supports 128-bit and 256-bit key with integrated Key Expansion

Data interface

FIFO-like interface

AXI-4 Stream

Self-checking Test-Bench based on FIPS vectors

Low power features
Benefits
Scalable and flexible AES-GCM Engine

The AES-GCM engine is a scalable solution, which provides a full range of solutions from 10 Gbps to 100 Gbps.

The BA415 AES-GCM includes key management and context switching. The optimized context switching enables handling of multiple virtual streams of data within a single core.

The key can be selected for each packet independently. The advanced pipelined architecture of the AES-GCM core enables small data packets to be processed without penalty on performance.

Easy-to-Integrate

The BA415 is an easy-to-use solution with predictable resources and performances on ASIC and FPGA. The simple FIFO interfaces make it easy to integrate in any design.
Applications
IEEE 802.1AE (MACsec) Ethernet security

ANSI (INCITS) Fibre Channel Security Protocols (FC-SP)

IEEE P1619.1 tape storage

IETF IPsec standards (RFC 4106)

SSH and TLS/SSL.

High speed networking and storage in general
Block Diagram of the Scalable AES-CTR/GCM/GMAC 10 to 100 Gbps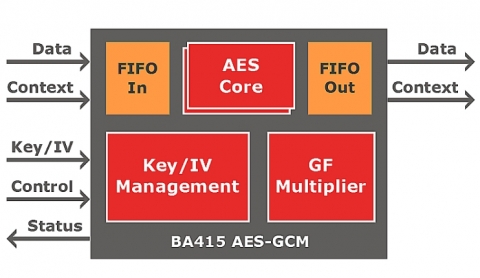 ---
View Scalable AES-CTR/GCM/GMAC 10 to 100 Gbps full description to...
see the entire Scalable AES-CTR/GCM/GMAC 10 to 100 Gbps datasheet
get in contact with Scalable AES-CTR/GCM/GMAC 10 to 100 Gbps Supplier