You are here:
ultra-low cost and low power embedded CPU
CK801 is an ultra-low cost and low power embedded CPU core among CK800 series. Based on C-SKY V2 instruction set architecture and 16/32-bit variable length instruction system, CK801 only implements 70+ instructions to optimize code density, area cost and power efficiency. Moreover, CK801 realizes an extreme low cost 2 stage pipeline. CK801 family includes basic core (CK801) and trusted execution extension (CK801T).

Features
Extremely reduced instruction set computer architecture, 32-bit data, 32/16-bit variable length instructions;

70+ core instructions, including 55 16-bit instructions;

Performance: 0.6 DMIPS/MHz;

2-stage extremely low cost pipeline, single issue in-order execution;

One-cycle execution delay for all instructions;

Von Neumann architecture, single-bus shared by instruction and data access;

Configurable hardware multiplier;

14 cycles Interrupt latency from interrupt asserting to interrupt handler processing;

Memory access protection, 0~8 hardware configurable memory protection;

Tightly-coupled IPs, including vector interrupt controller, timer and power management unit;

Trusted execution technology against software attack;

Configurable hardware debugger supporting on-chip debugging;
Applications
Internet of Things (IoT), low cost MCU, smart sensor;
Block Diagram of the ultra-low cost and low power embedded CPU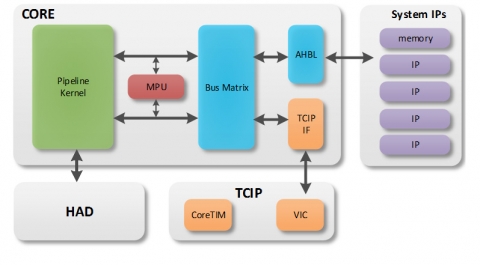 ---
View ultra-low cost and low power embedded CPU full description to...
see the entire ultra-low cost and low power embedded CPU datasheet
get in contact with ultra-low cost and low power embedded CPU Supplier