You are here:
AMBA AHB Verification IP
AMBA AHB VIP can be configured as Master, Slave and AHB bus and allows Module & System level verification. AMBA AHB VIP is a readymade highly configurable SystemVerilog Verification Component suitable for verification of AMBA AHB master and slave DUT. The AHB SV VIP provides all necessary building blocks to easily test master/slave DUT with the AHB protocol. The Verification Component can be easily configured and integrated with the verification environment.
Features
Generate Busy, Idle or burst transfers on the AHB bus

Gives arbitration at three level of arbitration priority level

Generates different kind of response like SPLIT, RETRY, ERROR and OKAY

Collects coverage information

Checks for AMBA AHB protocol through interface level assertion

Support for all kind of burst transfers like SINGLE/INCR/WRAP

Support for different size (HSIZE) of transfer

Support for multiple bus-widths (32/64 bits)
Benefits
eInfochips provides customer's regular product updates and consultation with experts. Our Verification experts are available round the clock to meet customer requirements related to integrating verification components into test environment and other support related issues.
Deliverables
Completely verified AHB Verification Component encrypted code

Documentation - User's Guide, Release Notes

Sample Test cases
Block Diagram of the AMBA AHB Verification IP Verification IP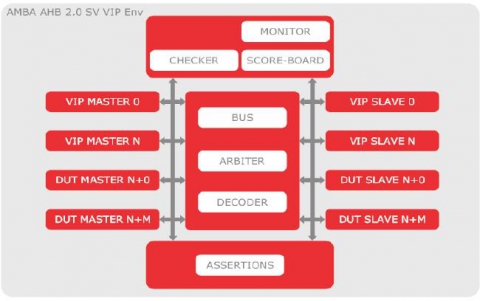 ---
View AMBA AHB Verification IP full description to...
see the entire AMBA AHB Verification IP datasheet
get in contact with AMBA AHB Verification IP Supplier