You are here:
AMBA AXI5 Verification IP
Truechip's AMBA AXI5 Verification IP provides an effective & efficient way to verify the components interfacing with AMBA® AXI5 bus of an IP or SoC.

Truechip's AMBA AXI5 VIP is fully compliant with standard AMBA® AXI5 specification from ARM. This VIP is a light weight VIP with easy plug-and-play interface so that there is no hit on the design cycle time.

Features
AXI5 VIP is Compliant to the latest ARM™ AMBA AXI5 & AXI5 lite.

It is also compatible to AXI3, AXI4 Protocol Specification v2.0 referred to as AXI4, AXI4-Lite and AXI4 Stream.

Supports all Atomic transactions AtomicStore, AtomicLoad, Atomicswap, Atomic compare

Supports 8 different operations like add, clr, eor,set,smax,smin,umax, and umin which can be used with atomicstore and atomic load.

Support Data checking and Poison signal also which can be used to detect and potentially correct, data bytes which have become corrupted.

Trace signals are there for debugging, tracing, and performance measurement of systems.

Support for additional interface signals that enable a slave to indicate the minimum QoS value of transactions that it accepts.

Support for user Loopback signaling.

Supports signals that enable access to particular Non-secure memory locations to be controlled

Supports Wake-up Signaling mechanism

Support for all type of AMBA AXI4 devices: l Master Agent l Slave Agent

Strong protocol checking Bus Monitor which also provides statistics of the transactions

Parameterized data and address bus

Support for all protocol Burst Types, Burst Lengths and Response Types

Configurable modes for valid and Ready on different channels

Internal Architecture Based on TLM 2.0

Rich set of configuration parameters to control AXI4 functionality

Supports callback in Master and Slave

AXI4 Verification IP comes with Extensive Coverage Across the Channels

Supports FIFO, memory and Cache Model integrated

VIP supports privileged and Secure accesses

Supports out of order transaction with Parameterized out of order width

Supports data interleaving on read data channel

Supports Endianess check and conversion

Rich set of error injections

Supports exclusive transfers

Dynamic configuration is supported

Support UVM_RAL Model

Configurable Memory

Provides detailed performance monitoring for all the transfers.

Support GUI analyzer for easy debugging.

Supports 256 Beat Bursts for INCR.

Supports interconnect scoreboard for checking data integrity across interconnect.
Benefits
Available in native SystemVerilog (UVM/OVM/VMM) and Verilog

Unique development methodology to ensure highest levels of quality

Availability of Compliance & Regression Test Suites

24X5 customer support

Unique and customizable licensing models

Exhaustive set of assertions and cover points with connectivity example for all the components

Consistency of interface, installation, operation and documentation across all our VIPs
Deliverables
AMBA AXI5 Master/Slave Agent

AMBA AXI5 Bus Monitor and Scoreboard

AMBA AXI5 Interconnect Scoreboard

AMBA AXI5 Interconnect Model (Optional)

Test Environment & Test Suite :

Basic and Directed Protocol Tests

Random Tests

Error Scenario Tests

Assertions & Cover Point Tests

Integration Guide, User Manual and Release Notes
Block Diagram of the AMBA AXI5 Verification IP Verification IP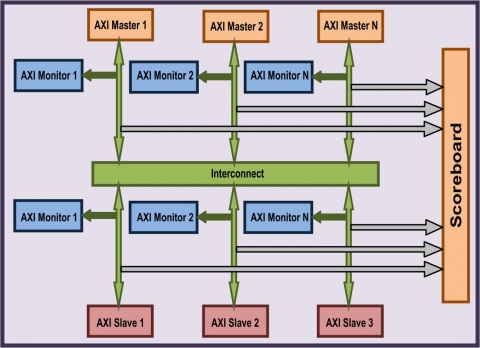 ---
View AMBA AXI5 Verification IP full description to...
see the entire AMBA AXI5 Verification IP datasheet
get in contact with AMBA AXI5 Verification IP Supplier