You are here:
DDR2 SDRAM VIP
Double-Data-Rate-Two Synchronous Dynamic Random Access Memory (DDR2 SDRAM) is the memory technology used for high speed data transfer. This class of memory technology has 4n pre-fetch architecture and transfers data on both edges of clock (positive and negative). DDR2 SDRAM Memory controller manages all the Initialization, Read, Write and Refresh requirements of DDR2 memory module.
DDR2 SDRAM VIP can be used to verify JEDEC Standard (JESD79-2D) based DDR2 SDRAM Memory Model(s).

Features
All command operations (Refresh, Self Refresh, Power Down, No Operation, Mode Register Set, Precharge, Precharge All, Bank Active, Read, Write, Read with Auto Precharge, Write with Auto Precharge, Deselect)

Data transfer with Burst Length of 4/8

Sequential/Interleaved Burst type

Normal Mode command operations

Extended Mode Registers (EMR1, EMR2 & EMR3)

Variable Additive Latency (0 – 5 clocks) as per EMR1 configuration

Differential signaling for DQS (or LDQS and UDQS) and RDQS signals

Multiple Bank operations as per memory size support

Truncated Read/Write command operations as per the specification

Data Masking in Write command operations

Posted Column Address Strobe (CAS) Read/Write command operations

Seamless Read/Write command operations for bandwidth conservation

Auto configuration of Timing Parameters as per the VIP model configuration and specification

User configurable clock frequency model (400, 533, 667, 800)

User configurable data port interface (x4, x8, x16)

User configurable memory size (256 Mb, 512 Mb, 1 Gb, 2 Gb, 4 Gb)

User configurable speed bins (3-3-3, 4-4-4, 5-5-5, 6-6-6)

Functional Coverage for Coverage Driven Verification

DDR2 JEDEC standard (JESD79-2D) Interface compliant protocol checks (assertions)

Active/Passive VIP configuration to activate/de-activate its driver operation

Plug and Play with better User Interface

Error Injection Mechanism
Benefits
eInfochips provides customers regular product updates and expert consultation. Our Verification experts are available round the clock to meet customer requirements related to integrating verification components into test environment and other support related issues.
Deliverables
JEDEC standard (JESD79-2D) compliant DDR2 SDRAM Verification IP

Documentation – Verification Environment Plan, Verification Plan, Test Plan, Assertion Plan and Coverage Plan.

Sample Verification Environment illustrating DDR2 SDRAM VIP instance and it's active operations

Verification Environment supporting Responder (DDR2 DUT emulator) and Data Integrity checking scoreboard modules

Comprehensive Coverage Driven Verification test suite, scripts and other utilities
Block Diagram of the DDR2 SDRAM VIP Verification IP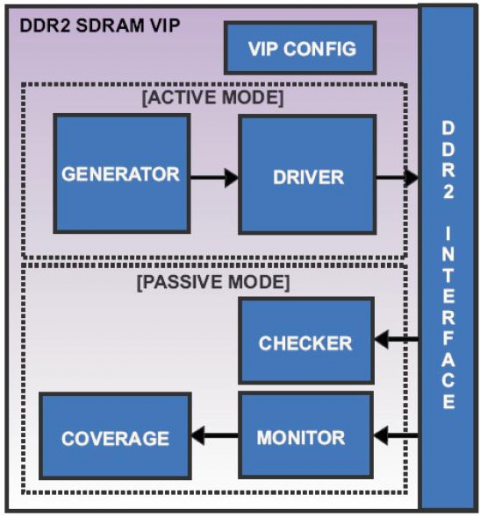 ---
View DDR2 SDRAM VIP full description to...
see the entire DDR2 SDRAM VIP datasheet
get in contact with DDR2 SDRAM VIP Supplier