You are here:
Gigabit Ethernet Verification Component
The Gigabit Ethernet eVC can be used to verify any IEEE802.3:2000 and IEEE Draft P802.3ae/D4.0 compliant MAC or PHY device. The eVC can be used for the functional verification of IP cores and SoC designs incorporating Ethernet MAC and PHY layer functionality and can be configured to have an unlimited number of Ethernet ports, each interfacing with one of the DUT's Ethernet ports. It works with all HDL simulators that are supported by Specman Elite™.
Features
Compliant to ISO/IEC 8802-3:2000(E) and P802.3ae/D4.0 Specifications

Simulates single or multiple Ethernet devices on a medium, generating and collecting Ethernet packets

Supports MII, GMII, RMII, SMII, RGMII, SGMII, TBI, XGMII, XAUI, XSBI interfaces

Supports ports capable of Full Duplex or Half duplex mode

Supports configuration of different ports independently (Switch configuration for example, 10 and 100 Mbps port in one switch)

Monitors protocol and reports violations

User can control generation of transactions for each device model

Supports eRM features such as message(), sequences, packaging and naming conventions

Provision of extensive sequence library for user to develop advance sequences for each interface

Fully configurable error generation allows testing of error detection mechanisms under realistic scenarios

Utilizes 'plug & play' eVC methodology to ensure full compatibility and inter-operability with other eVCs

Supports the management interface for MII, GMII, RMII, RGMII,SGMII, XGMII, XAUI protocols

Verifies MAC or PHY DUT with MII, GMII, RMII,SMII, RGMII,SGMII, TBI, XGMII, XAUI, XSBI
Benefits
The eVC can be configured for verifying various types of environments for different types of interfaces. Some examples are:

Multi-port MAC Switch environment having different/same type of interfaces (RGMII, SMII, MII, GMII, SGMII, TBI, XGMII, XAUI, XSBI)

Single Port MAC device having any interface (RGMII SMII, MII, GMII, RMII, SGMII, TBI, XGMII, XAUI, XSBI)

Single port PHY device having any interface (RGMII SMII, MII, GMII, RMII, SGMII, TBI, XGMII, XAUI, XSBI)

eInfochips' support and maintenance services provide the clients with product updates. eInfochips' eVCs are developed and supported by experts in reuse, verification and networking. These experts are always available, round the clock to meet your requirements related to integrating eVCs into your test environment.
Deliverables
Fully verified eRM compliant Gigabit Ethernet eVC code in encrypted form

Documentation - User guide and release notes

Test Suite with comprehensive sequence library
Block Diagram of the Gigabit Ethernet Verification Component Verification IP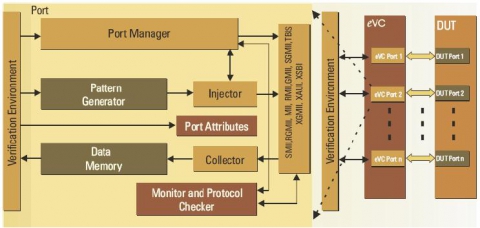 ---
View Gigabit Ethernet Verification Component full description to...
see the entire Gigabit Ethernet Verification Component datasheet
get in contact with Gigabit Ethernet Verification Component Supplier