You are here:
I2C Verification IP
The I2C Verification IP provides an effective & efficient way to verify the components interfacing with I2C interface of an ASIC/FPGA or SoC.

The I2C VIP is fully compliant with revision 03 of I2C specifications from Philips. This VIP is a light weight VIP with easy plug-and-play interface so that there is no hit on the design time and the simulation time.
Features
Fully compliant with Rev. 6 of the I2C-Bus Specification and backward compatible upto 2.1 version

Full I2C Master and Slave functionality

Master Transmitter/Master Receiver

Slave Transmitter/Slave Receiver

START, repeat START and STOP for all possible transfers

Supports all Speed Modes: Standard Speed Mode (upto 100 kb/s), Fast Speed Mode (upto 400 kb/s), Fast Speed Mode

Plus (upto 1Mb/s) and High Speed Mode (upto 3.4 Mb/s), Ultra fast mode (upto 5Mb/s)

Supports 7-Bit and 10-Bit addressing format

Allows testing of varied bus traffic for Read, Write, General Call

Supports scoreboard feature for end to end data integrity check

Notifies the Testbench of significant events such as transactions, warnings, and protocol errors

Built in I2C Bus Monitor provides extensive protocol checking

Supports Multi-Master and Multi-Slave system

Supports Arbitration and Clock Synchronization

Supports START Byte, Device ID, Bus Clear and Clock Stretching

Supports various error injection and detection

Provides verification scalability using functional coverage

Provides logging facility for bus traffic in the ASCII format and in user configurable mode

Supports Callback in Master and Slave

Supports timing checks in the Monitor

Supports UVM_RAL Model

Supports CCI mode

Supports transaction logging with detailed description of each transfer
Benefits
Available in native SystemVerilog (UVM/OVM/VMM) and Verilog

Unique development methodology to ensure highest levels of quality

Availability of Compliance & Regression Test Suites

24X5 customer support

Unique and customizable licensing models

Exhaustive set of assertions and cover points with connectivity example for all the components

Consistency of interface, installation, operation and documentation across all our VIPs
Deliverables
I2C Master / Slave Agent

I2C Monitor and Score board

Test Environment & Test Suite :

Basic and Directed Protocol Tests

Random Tests

Error Scenario Tests

Assertions & Cover Point Tests

Integration Guide, User Manual and Release Notes
Block Diagram of the I2C Verification IP Verification IP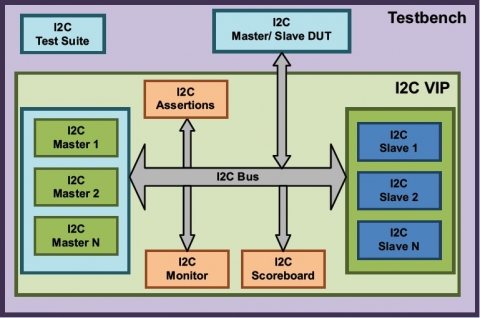 ---
View I2C Verification IP full description to...
see the entire I2C Verification IP datasheet
get in contact with I2C Verification IP Supplier