You are here:
Single/Multi Port USB Type-C Power Delivery Verification IP
SiliConch SCPD3013VIP is a configurable Multiport USB Type-C Power Delivery (PD) Verification IP that is based on the latest USB Power Delivery specification revision 3.0 and USB Type-C Cable and Connector specification revision 1.3.

The SCPD3013VIP contains fully configurable PD Stack, Type-C, Policy Manager interfaces, VBUS Power Management and Battery System model to verify real-time scenarios. Integrity checks with protocol checkers along with exhaustive coverage at each layer and CC interface assertions are coupled with environment for easier debug and issue tracing.

SCPD3013VIP has plug-and-play interface for CC, VBUS and custom interface connections which minimizes the integration effort. SCPD3013VIP supports quick scenario generation for any use-case with minimum effort apart from the extensive test-suite that comes along.
Features
Fully compliant with USB PD Specification revision 3.0 and Type-C Cable and Connector specification revision 1.3 including implementations for USB-IF approved ECRs.

Supports backward compatibility for USB PD Specification revision 2.0.

Supports cable communications (SOP'/SOP"), VDMs (structured and unstructured) and DP Alt Mode.

Supports Authentication and Firmware update through PD.

Scalability and Configurability

Completely configurable to support verification of PD Designs:

Multiport

Source/Sink/DRP as well as DFP/UFP/DRD

Wall charger, Phone, Laptop, Hub and EMC Plug, etc.

Scalable to support Unit (layer) level verification, TCPM/TCPC verification

System Level Verification supports

Verification of power side interface of DPM by providing configurable RNM models for Power Management and Battery System

Power related scenarios such as BATTERY_ATTACH, BATTERY_REMOVE, DCIN_PLUGIN, DCIN_PLUGOUT, DEAD_BATTERY and OCP_TRIGGER, etc.,

Voltage-current level real-type signaling for CC and VBUS, apart from digital signaling over CC

Configuration of VIP into USB Device low power states such as configured, operational and suspend (sleep state)

PD and Type-C scenarios

All AMS as mentioned in Power Delivery Specification revision 3.0

All Type-C configurations including audio adapter accessory mode and debug accessory mode

Human interruption at cable level, for e.g., Attach, Detach and Twist orientation etc.,

Exhaustive error injection for:

Bit-level corruption through Callbacks

Packet/Transaction Level corruption through Lateral Layer Controllers

Functional corruption through State Design Pattern

Jitter/Clock frequency variation

Provides user-controllable assertions at CC interface, Protocol checkers per layer, DUT-based invariant checkers and scoreboard

User-specific implementation verification support

Provides facility for quick addition of new scenarios for any use-case on top of the exhaustive test suite

Provides user hooks for easy addition of coverage/checkers on top of the pre-listed coverage/checkers

Provides extendibility for adding any user-specific structured and unstructured VDM

Debug Support

Bundled with transaction-level protocol analyzer along with structured reports/logs for easier debug and result analysis
Benefits
Early Verification IP Developer for Rev3.0/Rev2.0

Patent pending completely Configurable and Scalable architecture

Supports Real Time System Level Scenarios

Fully customizable Power Management, Battery System Models

Flash Model, UART, SPI, and I2C BFMs enabling system level verification

USB Device Power States support

Exhaustive test suite, error suite checkers and coverage

Plug-Play integration into any IP or SOC environment

Gate Level and Power Aware Simulations support

FPGA proven Verification IP
Deliverables
Fully configurable multi-port Verification IP and Testbench using SV/UVM

Behavior models (BMOD) for CC and PD PHY, VBUS Power Management and Battery System

Exhaustive sanity and error case test-suite along with reusable configurations and pre-enabled callback library

Built-in compliance checkers and coverage

Comprehensive Verification Plan and User guide

VIP Integration and Simulation DEMO Video along with Integration guide

Transaction Level protocol tracker for easy debug
Block Diagram of the Single/Multi Port USB Type-C Power Delivery Verification IP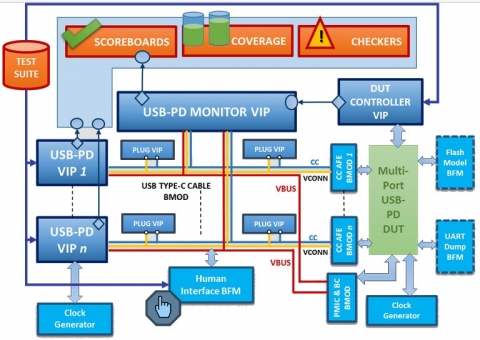 Video Demo of the Single/Multi Port USB Type-C Power Delivery Verification IP
SiliConch USB Type-C Power Delivery IP PoC Demo
---
View Single/Multi Port USB Type-C Power Delivery Verification IP full description to...
see the entire Single/Multi Port USB Type-C Power Delivery Verification IP datasheet
get in contact with Single/Multi Port USB Type-C Power Delivery Verification IP Supplier