You are here:
SRAM Verification IP
Truechip's SRAM Verification IP provides an effective & efficient way to verify the SRAM components. This VIP is a light weight VIP with easy plug‐and‐play interface so that there is no hit on the design time and the simulation time.

Features
User configurable size – parametrized depth and

width

Single port synchronous RAM

Reports various error signals, which can be used

to check for any error

Provides full control to the user to enable / disable various types of messages

Integrates easily in any verification environment

Supports full timing models or bus functional models

Supports advanced SystemVerilog features like constrained random testing

Supports Callback / User Configuration in Monitor, memory controller and memory model BFMs

Supports wide variety of Dynamic as well as Static Error Injection scenarios

Configurable Single and Dual port

On chip ECC

Bus Inversion

Burst/ Burst Chop Read and Write operation

De‐Skew Training​
Benefits
Available in native System Verilog (UVM/OVM/VMM) and Verilog

Unique development methodology to ensure highest levels of quality

Availability of Compliance & Regression Test Suites

24X5 customer support

Unique and customizable licensing models

Exhaustive set of coverage points with connectivity example for all the components

Consistency of interface, installation, operation and documentation across all our VIPs

​Provide complete solution and easy integration in IP and SoC environment​
Deliverables
SRAM Model

SRAM Monitor and Scoreboard

SRAM Memory Controller BFM/Agent

Test‐Bench Configurations

Test Suite (Available in Source code) :

Basic Protocol Tests

Directed & Random Tests

Cover Point Tests

Integration Guide, User Manual and Release Notes

GUI analyser to view simulation packet Flow​
Block Diagram of the SRAM Verification IP Verification IP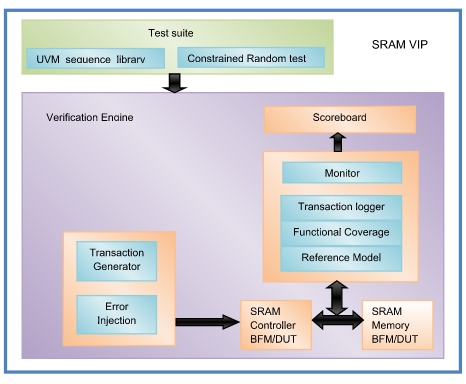 ---
View SRAM Verification IP full description to...
see the entire SRAM Verification IP datasheet
get in contact with SRAM Verification IP Supplier