You are here:
VC Verification IP for DDR5
Synopsys® VC Verification IP for JEDEC DDR5, deployed in November 2016, provides a comprehensive set of protocol, methodology, verification, and productivity features, enabling users to achieve accelerated verification closure of DDR5/4/3/2 based designs.

This VIP is based on next generation architecture and implemented in native SystemVerilog/UVM. It is natively integrated with Verdi Protocol and Memory Analyzer for easy and fast debug and Verdi Performance Analyzer to find and fix performance bottlenecks.

Features
DDR5 DRAM JEDEC rev 0.72 g

3DS rev 0.72 g

UDIMM

RDIMM rev 0.3

LRDIM

All speed bins

All densities (8Gb to 32Gb)

All commands, and burst sizes

SDR/DDR modes

PDA, MPSM and 2N mode

CA parity and ECC

Trainings (CS, CA, read training pattern, read preamble training, write leveling)

All mode registers

On die termination (ODT)

PPR, DFE, CT Mode
Benefits
Native SystemVerilog/UVM/OVM

Memory model certification

Access to vendor specifications and memory models

Runs natively on all major simulators

All JEDEC parts

Runtime JEDEC and vendor part selection

Verification plan and coverage

Built-in protocol and timing checks

Verdi Protocol and Memory Analyzer

Dynamic reconfiguration

Backdoor memory/mode registers access

Bypass/fast initialization

Error injection and exceptions

Trace file and debug ports for easy debug

Delay modeling: fly by delay, trace delay, buffer delays
Block Diagram of the VC Verification IP for DDR5 Verification IP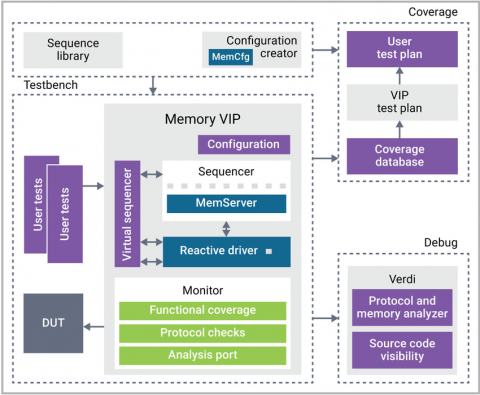 ---
View VC Verification IP for DDR5 full description to...
see the entire VC Verification IP for DDR5 datasheet
get in contact with VC Verification IP for DDR5 Supplier