You are here:
VC Verification IP for Ethernet
Synopsys VC Verification IP (VIP) for Ethernet provides complete support for Ethernet 10/100/1000M/10G/40G and 100G interfaces. With a comprehensive set of protocol, methodology, verification and ease-of-use features, users are able to achieve rapid coverage convergence for their Ethernet-based designs.
Features
10/100M, 1G, 10G, 40G, 100G speed support

MII, RMII, SMII, GMII, RGMII, SGMII, XGMII, XLGMII, CGMII MAC interfaces

TBI, XSBI, XFBI, XLSBI, CSBI, XAUI, XLAUI and CAUI interfaces

MDIO clause 22 and clause 45 support

Data, pause control, VLAN, PPP, PTP 1588, jumbo frames

Supports transmit and receive of multiple packet types in layers 2/3/4/7

Options to add proprietary/custom headers and payloads

IEEE P802.3bj/D3.0 Energy Efficient Ethernet (EEE)

IEEE P802.3bj/D3.0 100G BASE-R FEC

Forward error correction, auto-adaptation and auto-negotiation

Skew insertion and lane reversal

Dynamic speed switching
Benefits
VC VIP Ethernet is integrated with the Protocol Analyzer, a protocol-aware debug environment that enables users to quickly debug protocols by raising the abstraction level and providing easy navigation through layers of the protocol hierarchy.

VC VIP Ethernet is written entirely in SystemVerilog enabling it to run natively in supported simulators for highest performance.
Block Diagram of the VC Verification IP for Ethernet Verification IP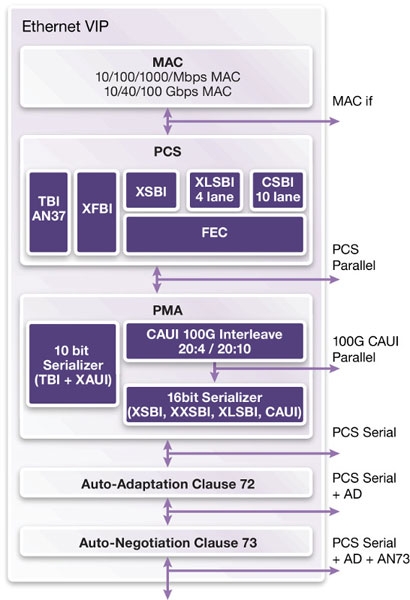 ---
View VC Verification IP for Ethernet full description to...
see the entire VC Verification IP for Ethernet datasheet
get in contact with VC Verification IP for Ethernet Supplier