SAN JOSE, CA – October 2, 2008 – Worldwide sales of semiconductors grew by 5.5 percent to $22.7 billion in August from August 2007 sales of $21.5 billion. Sales grew by 2.4 percent from July when sales were $22.2 billion.Year-to-date sales through August were $170.2 billion, an increase of 4.5 percent from the same period of 2007 when sales were $162.9 billion.
"Global sales of semiconductors remained strong in August," said SIA President George Scalise. "Sales of personal computers and cellular handsets continued to be the principal drivers of demand. Continuing price pressure on DRAMs and NAND flash memory dampened overall industry growth. Excluding memory products, industry sales were up by 11.4 percent year-on-year in August. Year-to-date sales were 4.5 percent ahead of last year and remain in line with the SIA mid-year forecast of 4.3 percent growth in 2008," Scalise continued.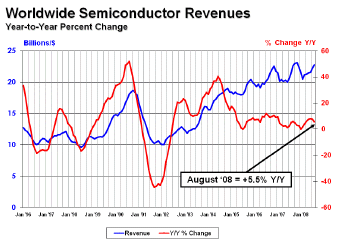 According to a recent Credit Suisse report, PC unit sales are projected to grow by more than 13 percent in 2008.  Unit sales grew by 9.1 percent year-on-year in August, a modest slowdown from July. Worldwide unit sales of cellular handsets remained strong – especially in emerging markets. Unit sales of cellular handsets are forecast to grow about ten percent in 2008, with the strongest growth coming from emerging markets.
 "With consumer purchases now driving more than half of semiconductor sales, consumer confidence is essential to the entire supply chain of the global technology sector; thus it is essential for Congress to move swiftly to restore stability to the U.S. financial system," Scalise concluded.
About the SIA Global Sales Report
The SIA Global Sales Report (GSR) is a three-month moving average of sales activity. The GSR is tabulated by the World Semiconductor Trade Statistics (WSTS) organization, an independent, non-profit organization established by the global semiconductor industry to compile industry statistics. The moving average is a mathematical smoothing technique that mitigates variations due to differences in companies' financial calendars.
To view the data table and chart, click HERE.
About the SIA
The SIA is the leading voice for the semiconductor industry and has represented U.S. semiconductor companies since 1977. Collectively, the chip industry employs a domestic workforce of 216,000 people. More information about the SIA can be found at www.sia-online.org.