D&R Industry Articles (October 2020)
Articles for the Week of October 19, 2020
Featured Article

As the semiconductor industry is rapidly changing, there is limited margin of error for Designers, verification engineers and layout designers. We must get success on first cut as the Designing, Verification and Fabrication of chip is costly and time to market is tighten.
Articles for the Week of October 12, 2020
Featured Article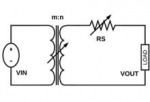 This application note provides a brief theory on the efficiency in SC DC-DC converters and a comparative efficiency analysis between the two types of switched converter architectures using a typical application case.