Faster ARM Core Boosts Processing Power of STMicroelectronics Nomadik Mobile Multimedia Chip
New processor in ST's Nomadik family builds on STn8810 distributed multimedia processor with enhanced performance for general-purpose applications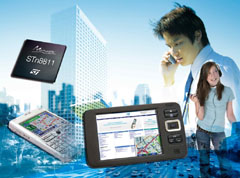 Geneva, July 31,2007 - STMicroelectronics  today announced an addition to its award-winning1 Nomadik® family of mobile multimedia application processors, which builds on the success of the pioneering STn8810 by increasing the speed of its ARM9 core by almost 50%. The new higher-speed core in the STn8811 delivers stunning performance for general-purpose applications running alongside video, music and image processing on smart mobile phones, personal media players (PMPs) and personal navigation devices (PNDs). It joins the STn8810, in providing a low-cost, high-performance solution for cost-sensitive multimedia products.
The ARM926EJ core of the STn8811 runs at 393MHz, compared to 264MHz in the STn8810, and is supported by the innovative Nomadik architecture, which provides smart video and audio accelerators. These accelerators reduce the CPU's (central-processing unit) workload to extend the battery life of the product, and release more processing power for general-purpose device applications and OS support. The STn8811 is available in a space-saving 12 x 12mm BGA package – resulting from an optimization of constraints such as size and easier PCB routing.
"The STn8811 extends the rich multimedia experience already provided by the STn8810, enabling manufacturers to build on its established software base by adding enhanced and more complex applications," said Jyrki Hannikainen, General Manager, Application Processor Division, STMicroelectronics. "The innovative Nomadik architecture and multimedia accelerators are designed specifically to deliver today's active information and entertainment experiences on energy-sensitive mobile platforms."
Among its broad array of peripheral-device interfaces – which include simultaneous TV and color LCD outputs, and a camera input – the STn8811 integrates a High-speed (12-Mbit/s) USB On-The-Go (OTG) port, and a MultiMediaCard (MMC), - SD Card controller. With its open platform approach, it supports Linux, Symbian, Windows Mobile and WinCE operating systems.
The Nomadik family of multimedia application processors now consists of the STn8810 and STn8810S12 (differing in memory configuration), the STn8811, and the STn8815 which adds imaging and graphics processors, and a level-2 cache. The STn8811 is available in sample quantities now to lead customers, with volume production planned for Q3; pricing is expected to be $12.90 for quantities of 10,000 pieces.

About STMicroelectronics

STMicroelectronics is a global leader in developing and delivering semiconductor solutions across the spectrum of microelectronics applications. An unrivalled combination of silicon and system expertise, manufacturing strength, Intellectual Property (IP) portfolio and strategic partners positions the Company at the forefront of System-on-Chip (SoC) technology and its products play a key role in enabling today's convergence markets. The Company's shares are traded on the New York Stock Exchange, on Euronext Paris and on the Milan Stock Exchange. In 2006, the Company's net revenues were $9.85 billion and net earnings were $782 million. Further information on ST can be found at www.st.com.

Contact STMicroelectronics