Hynix Semiconductor Licenses ISi's Z-RAM Memory Technology for DRAM Products
Technology Slashes DRAM Size and Cost Eight-Figure Deal Changes the Face of the DRAM World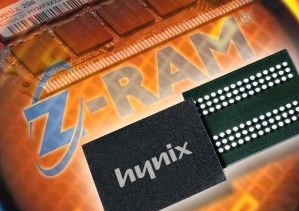 SANTA CLARA, Calif. & ICHEON, South Korea -- August 13, 2007
-- Innovative Silicon Inc. (ISi), the developer of Z-RAM® high-density memory intellectual property (IP), and Hynix Semiconductor Inc. today announced that Hynix has agreed to license ISi's Z-RAM for use in its DRAM chips. Z-RAM-based DRAMs will use a single transistor bitcell – rather than a combination of transistors and capacitor elements – representing the first fundamental DRAM bitcell change since the invention of the DRAM in the early 1970s. Hynix has received the first-mover opportunity to bring Z-RAM to the DRAM market; and to ensure this advantage, the two companies have committed considerable engineering resources to work side-by-side on the program.
Z-RAM was initially developed as the world's lowest-cost embedded memory technology for logic-based ICs such as mobile chipsets, microprocessors, networking and other consumer applications. The technology was first licensed, in December 2005, by AMD for upcoming microprocessor designs. Now, the engagement with Hynix positions Z-RAM to become the lowest-cost memory technology in the greater than $30B memory market.
"Z-RAM promises to provide an elegant approach to manufacture dense DRAMs on nanometer processes," said Sung-Joo Hong, VP of R&D Division at Hynix. "We see the potential to create a new platform of products based on ISi's innovation of Z-RAM that will help us maintain and grow our leadership position in the memory market."
"Hynix's decision to collaborate with ISi is additional validation of the strength and commercial viability of our Z-RAM memory technology, particularly since Hynix is a dominant player in the memory IC market and its products are used in a vast array of electronic devices, including personal computers, servers, workstations, graphic cards, as well as handheld devices, such as mobile phones, MP3 players and digital cameras," noted Mark-Eric Jones, ISi CEO. "Memory chips built using ISi's Z-RAM technology will be much smaller and cheaper to manufacture. We are looking forward to working with Hynix on its next generation of DRAM chips, and to bringing tremendous performance and usability advantages to end-users."
Commented Jeff Lewis, VP marketing at ISi: "We believe that this is a major milestone for ISi and Hynix. Z-RAM will have a profound impact on the way DRAMs are designed and manufactured. Since the DRAM industry sold more than $33 billion worth of product in 2006, these developments will, in turn, significantly affect the electronics industry as a whole."
ISi's Z-RAM stands apart from today's standard DRAM and SRAM solutions as its single transistor (1T) bitcell architecture is the world's smallest memory cell, making it the highest density, and therefore world's lowest-cost semiconductor memory solution. Z-RAM's one transistor memory bitcell is made possible by harnessing the Floating Body Effect (FBE) found in circuits fabricated using SOI (silicon-on-insulator) wafers. Moreover, since Z-RAM takes advantage of a naturally-occurring SOI effect, Z-RAM does not require exotic process changes to build capacitors or other complex structures within the memory bitcell.
About Innovative Silicon
Innovative Silicon Inc. (ISi) delivers ultra-high density memory IP for embedded SoC, MPU and portable consumer applications requiring low power, high density and high speed. Endorsed by IEEE Spectrum Magazine in January 2007 as the 'winning' semiconductor technology, and again in April 2007 by winning its ACE award for Emerging Technology, ISi's Z-RAM® memory offers up to twice the density of embedded DRAM and is up to five times denser than embedded SRAM. The company closed its first round of VC funding in 2003, completed its first 90nm megabit Z-RAM memory designs in 2004, its first 65nm designs in 2005 and its first 45nm designs in 2006. With more than 20 patents already granted, Z-RAM®'s unique single-transistor architecture is the world's lowest cost semiconductor memory solution. The company is incorporated in the USA with R&D in Lausanne, Switzerland. For more information see
www.z-ram.com
.
About Hynix Semiconductor Inc.
Hynix Semiconductor Inc. (HSI) of Icheon, Korea, is the world's top tier memory semiconductor supplier offering Dynamic Random Access Memory chips ("DRAMs") and Flash memory chips to a wide range of established international customers. The Company's shares are traded on the Korea Stock Exchange, and the Global Depository shares are listed on the Luxemburg Stock Exchange. Further information about Hynix is available at
www.hynix.com
.
Contact Innovative Silicon Inc.