ChipMOS Files Patent Infringement Suit Against Walton Advanced Engineering, Inc.
Hsinchu, Taiwan -- September 6, 2007 -- ChipMOS TECHNOLOGIES (Bermuda) LTD. ("ChipMOS" or the "Company'') (Nasdaq: IMOS) announced today that its 99.14% owned subsidiary, ChipMOS TECHNOLOGIES INC. ("ChipMOS Taiwan") filed a lawsuit on September 5, 2007 Taiwan time in Kaohsiung District Court against Walton Advanced Engineering, Inc. ("Walton"), alleging infringement by Walton of two of ChipMOS Taiwan's BGA (Ball Grid Array) package related patents which are used for DDR II SDRAM devices.  
ChipMOS Taiwan obtained from the retail market several branded memory modules packaged by Walton and sent them to a professional appraisal institution for investigation. ChipMOS Taiwan decided to file the litigation based upon the investigating report of this professional appraisal institution, which concluded that the package device employed on the aforementioned modules infringed ChipMOS Taiwan R.O.C. patent no. 207627 "Substrate on Chip Packaging Process" and patent no. 207525 "Substrate on Chip Packaging Process".
ChipMOS highly values intellectual property while continuously focusing on the R&D of advanced technology and products. As of July 31, 2007, ChipMOS and ChipMOS Taiwan have accumulated 456 registered and active patents, which is a key factor in the Company's leading status of memory and LCD driver SATS (Semiconductor Assembly and Test Services) industry. In order to protect its patents and shareholders' rights, ChipMOS Taiwan decided to file the patent infringement lawsuit against Walton, seeking NT$15 million in monetary damages at the initial stage for the losses ChipMOS Taiwan suffered as well as a court order prohibiting Walton from using the allegedly infringing technology.

Patent Summary
Summary: A SOC (Substrate On Chip) packaging process is disclosed. A layer of two-stage thermosetting mixture with solvent is coating on an upside of a substrate. Thereafter, the substrate is heated for removing solvent so that the two stage thermosetting mixture becomes a dry adhesive film without solvent. Thus, the bonding pads of the chip are not covered by the dry adhesive film and a better operating flexibility is obtained in the SOC packaging process.

Application: SOC (so called, window BGA or FBGA) packages primarily used for DDR II SDRAM devices.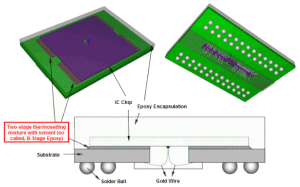 About ChipMOS TECHNOLOGIES (Bermuda) LTD.:
ChipMOS (http://www.chipmos.com/) is a leading independent provider of semiconductor testing and assembly services to customers in Taiwan, Japan, and the U.S. With advanced facilities in Hsinchu and Southern Taiwan Science Parks in Taiwan and Shanghai, ChipMOS and its subsidiaries provide testing and assembly services to a broad range of customers, including leading fabless semiconductor companies, integrated device manufacturers and independent semiconductor foundries.
Contact ChipMOS