Dolphin Integration clears the conundrum of Class D versus Class AB
Class-D vs Class-AB for headphone amplifiers
Meylan, France - February 4, 2008 - The pressure to lowering the power consumption leads system designers to investigate different architectures for audio amplifiers. They naturally investigate class-D amplifiers as the new El-Dorado for low power operation. Indeed Class-D technology is usually appraised for its high efficiency.
However, when it comes to high load applications like headphone amplifiers, the benefits from class-D are more misleading and should be carefully assessed: is the power efficiency the same for low output power? Does the Bill-of-Material remain attractive?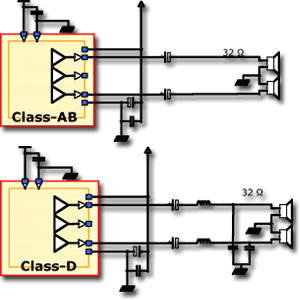 Class-D amplifiers: miracle or mirage?
Efficiency:
A Class-D type output stage (PWM switching) enables a higher efficiency than a class-AB amplifier: no doubt about it. For applications requiring an output power in the Watt range, Class-D limited dissipation is highly appreciated by system engineers.
But headphone amplifiers are specified in the 20 to 40 mW range and actually set in portable devices at about 2 mW. Over such an output range, the efficiency improvement brought by a class-D power stage is in the order of a µW : negligible at system level. A draw!
Power consumption:
While there is one standard IC with a patented solution offering a really low power consumption over the whole DAC path, embeddable class-D power stages for headphone commonly enable a power consumption around 3 to 4 mA per channel. A stereo power stage then dissipates 6 to 8 mA… for the class-D amplifier only! The power required by the DAC should be added and the real bill therefore easily reaches 30 mW at 3.3 V. For an output power of 20 mW, can it still be considered as low power? This also emphasizes that the overall power efficiency must be considered, not the mere efficiency of the final class-D stage!
SNR being equal, a state-of-the-art class-AB output stage and its DAC enable a power consumption of 20 mW at 3.3 V for a stereo headphone driver. Low power solutions based on class-AB have also been announced at less than 3 mA for a whole stereo headphone path: less than 10 mW at 3.3 V! Winner: class-AB
Bill-of-Material:
Benchmarks for Efficiency always include a serial inductor. Being specified explicitly or not, since the load can be used as a filter, class-D amplifiers always require the use of reactive passive components to filter the out-of-band energy and preserve the efficiency. For portable applications, bulky inductors or LC filters are definitively not competitive against the filter-less connection enabled by class-AB amplifiers. Winner: class-AB
About Dolphin Integration
This 23 year-old Design worldwide Provider specializes in Virtual Components of IP and EDA Solutions enabling "mixed signal Systems-on-Chip" with high resolution codecs for portable consumer devices.
Such Audio Codecs are offered with embedded power management companions for processes ranging from 0.18 µm to 65 nm, up to 106 dB for audio converters, and 115 dB for measurement applications.
They are enriched by High productivity Development Platforms for assessment and optimization of IDRT: the Injected Disturbance Rejection Threshold.
Their All-in-1 simulator SMASH, ensuring Consistency whatever the language, is a must for hierarchical SoC Integration in VHDL-AMS. It features patented solutions for Jitter simulation with Dispersion Sensitivity analysis and automatic extraction of Tolerance templates for Noise or Jitter, as well as the capability for mixed signal power-consumption assessment.
Contact Dolphin Design