DOLPHIN Integration introduces EMBLEM-MATH: a library of mathematical equations to build complex behavioral models
Grenoble, France, March 1, 2010 --  In 2010, Dolphin Integration puts the emphasis on launching a range of libraries of engineering models (EM) to ease the design of logic, analog and mixed signal circuit and multi domain system models. The Electro Mechanical Behavioral Library of Engineering Models EMBLEM-MATH is the first one of the lineage and it is comprised of mathematical equations for functions which allow building complex behavioral models with a netlist approach for composing them at the ViC and the SoC level.
The first release of EMBLEM-MATH 1.0 enables calculations with real numbers such as sources, addition, log, floor, round, derivation, gain, etc.
With this release analog designers are able to create, by mere graphical means, their own library at high abstraction level based on mathematical functions, without the need to implement these functions in any specific HDL. These models can be used in any application or domain like analog, logic and mixed-signal electronic domains plus different physical domains like:
thermal (especially in power devices),
electro-mechanics (sensor and actuator systems),
electro-magnetic (in steered drives for example in automotive applications…)
electro-optic (CCD or MOS cameras, beamer)
and electro-fluidic (medical applications).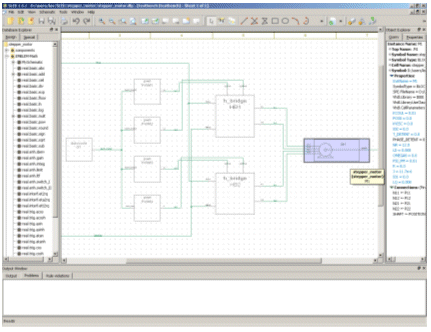 In the above schematic, the stepper motor and the PWM models were build with the help of the mathematical functions in EMBLEM-Math. They are seen as hierarchical blocks in the design.
With SLASH bundling the schematic editor SLED and the mixed signal simulator SMASH, it is easy to drag and drop the symbols and to instantiate models composed out of EMBLEM MATH equations in SPICE, VHDL-AMS and Verilog-A circuits.
For more information on EMBLEM MATH, feel free to contact Nathalie Dufayard at solutions@dolphin.fr
You are invited to benefit from a preview of innovations by Dolphin Integration at DATE Exhibition from March 9 to 11, 2010 at the International Congress Centre in Dresden, Germany, booth #38.
Contact Dolphin Design