Power Efficient Implementation of CommSolid's CSN130 NB-IoT IP Solution Supported by Zephyr RTOS
November 9, 2017 -- CommSolid's CSN130 NarrowBand-IoT IP (Intellectual Property) solution is listed as an example product using the ZephyrTM Real Time Operating System (RTOS). Real time systems are time bound with fixed time constraints. That means that a processing task must be completed within the time constraints for stable operation.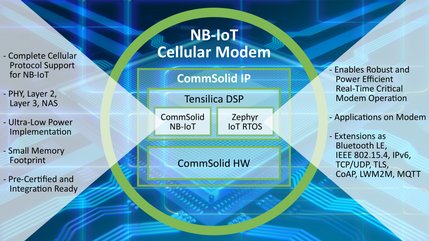 ZephyrTM RTOS provides the performance and stability needed to enable reliable NB-IoT communication and offers all required features at small memory footprint. In addition, ZephyrTM supports the power efficient implementation realized in CSN130, resulting in ultra-low power consumption and long battery life.
Contact CommSolid GmbH