Ericsson Technology Licensing and Imagination Technologies win Best IP / SoC Prizes 2002
Grenoble, France - November 18, 2002 - The 11th IFIP Workshop & Exhibition on IP Based SoC Design held on October 30-31, 2002 in Grenoble, France has proven to be an extremely successful event. This workshop is receiving hot attention from worldwide participants and focusing on the areas of IP based system design, IP/SoC qualification, IP/SoC Prototyping, IP/SoC modelling, internet technologies for IP exchange and other related topics.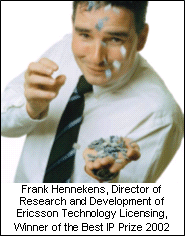 More than 80 papers were presented in 16 sessions on two parallel tracks during the two days, and 3 panels on hot topics such as "IP Business Models", "Network on Chip" and  "Platform Based Design and Embedded System" were organized. Please go to  http://www.us.design-reuse.com/ipbasedsocdesign  to see the exciting contributions of the participants. The joint exciting dedicated exhibition organised in cooperation  with CMP Media, Inc. enabled  the most advanced suppliers  to display their latest products, including Artisan Components,  Axis Systems, Cadence Design Foundry, CoWare, Denali  Software, Design And Reuse, Dolphin Integration, Ericsson Technology Licensing, GeTeDes, Improv Systems, Infineon Technologies, Jennic, Mentor Graphics, Novas Ltd., Newlogic OCP-IP, ProDesign, SuperH, Synchronicity, Synopsys, VCX and Verisity.


During this event the best IP/SOC design prizes have been  delivered to the most promising innovative IP/SOC design. Two amazing awards, namely a golden encapsulated prototype wafers of Alliance (ST Microelectronics, Philips and Motorola) were presented by Jacques Trilhe from ST Microelectronics respectively to: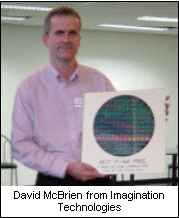 And
Has been nominated the company Newlogic for "A powerful dual-mode IP core for 802.11a/b Wireless LAN"
Congratulations to all the winners and see you next year at IP based SoC 2003.
About the Ericsson Bluetooth IP
"The Ericsson Bluetooth IP portfolio include Bluetooth baseband, radio, software, qualification, training and services. The complete portfolio provides semiconductor and original equipment manufacturers the fastest, most reliable course for implementing Bluetooth wireless technology in new products. The solution is an extremely power conservative Bluetooth solution with the smallest footprint and at the lowest cost. Managing cost, size and power also means optimizing CPU load and memory requirements, and our solution is so intelligent that these are kept to a minimum. The Bluetooth Cores are the most commercially proven Bluetooth solutions currently available, integrated into millions of consumer products."
About Ericsson Technology Licensing
Ericsson Technology Licensing develops state-of-the-art Bluetooth design solutions optimized for mobile communication, computing and media devices. As a major driving force behind the Bluetooth initiative, we have been instrumental in the development of Bluetooth wireless technology from a simple idea into a widely acclaimed industry standard. Our complete portfolio of Bluetooth baseband, radio, software, qualification, training and services provides semiconductor and original equipment manufacturers the fastest, most reliable course for implementing Bluetooth wireless technology in new products.
About Logie (FS-5021)
Logie (FS-5021) is the first integrated single-chip digital TV and digital radio product, and is based on intellectual property (IP) supplied by UK-based Imagination Technologies. It is available from Frontier Silicon, a fabless semiconductor business. Mass-production volumes of Logie will be available by early 2003.
The FS-5021 enables a number of digital video, audio and broadcast applications on a single low-cost SoC, and is expected it to benefit areas such as low cost set-top boxes and mass market integrated digital televisions.
Product types using Logie will include:
• Low cost digital TV STBs (Set-top Boxes) that adapt existing TVs to receive DTT (Digital Terrestrial Television) and DAB (Digital Radio.)

• Mass market Integrated Digital Televisions (IDTV), including advanced technology that uses Logie's flexibility to process both analogue and digital TV signals on the same chip. This means TV manufacturers can replace their existing analogue-only TV chips with Logie to provide both the analogue and digital processing power in televisions.

• Products offering any combination of digital entertainment technologies in a single box, including: DTT, Analogue TV, DAB digital radio, DVD, PVR (Personal Video Recording / Digital Video Recording), CD, Digital Home Cinema Audio (Dolby and DTS standards up to six-channels).
About Imagination Technologies
Imagination Technologies Group plc is an international IP licensing company that develops and supplies market-leading graphics/video cores, real-time DSP-enabled multithreaded processors and communication and broadcast technologies for the consumer entertainment and PC markets through its PowerVR, Metagence and Ensigma divisions. It supplies both licensable IP (Intellectual Property) and related advanced development tools to leading semiconductor and consumer electronics companies worldwide. The company's PURE Digital division creates innovative, award-winning consumer entertainment products. Imagination Technologies Group plc has its corporate headquarters in the United Kingdom and is publicly traded on the London Stock Exchange (FTSE:IMG). See: www.imgtec.com.
About Frontier Silicon
Operating at the frontiers of the digital revolution Frontier Silicon is a fabless semiconductor business whose core products include system-on-chip (SoC) devices and RF baseband modules for Digital TV, Digital Radio and  other emerging consumer multimedia products. Frontier is the number one supplier of DAB processors, worldwide. Its key markets include consumer electronic, automotive entertainment and PDA/mobile phone manufacturers. See: www.frontier-silicon.com