You are here:
10/100/1000/2500 Ethernet MAC
Comcores 10/100/1000/2500 Ethernet MAC IP solution is a low latency and low size solution that complies to IEEE 802.3 while keeping implementation complexity at a minimum.
The core is fully configurable and is prepared for IEEE1588 integration and easy interfacing with Comcores10/100/1000/2500 SGMII PCS IP solution.
The structure agnostic implementation ensures easy use and integration whether the target technology is FPGA, ASSP or ASIC.
Features
Delivers Performance:

Designed to IEEE 802.3-2012 specification

Ultra low latency and compact implementation

Full duplex Ethernet interfaces

Highly Configurable:

8-bit low latency 10/100/1000/2500 Ethernet MAC with optional Cut-through support

Ready for IEEE 1588 integration

Comes with MII, GMII, RGMII interface

Feature Rich:

FCS generation supported

Comprehensive statistics gathering as an option

Supports VLAN and jumbo frames as an option

Independent TX and RX Maximum Transmission Unit (MTU) frame length

Very easy integration with standard Xilinx AXI4 Lite control interface or APB

Silicon Agnostic:

Designed in VHDL-93 and targeting any RTL implementation like ASICs, ASSPs and FPGAs.
Benefits
Feature rich MAC

Ultra compact size

Can be customized for specific requirements

Flexible licensing models

Powerful support
Deliverables
The IP core comes deeply verified and with an extensive documentation that ,among others, includes Product Brief and User Manual. The core will by default come in an encrypted format. Source code option is available.
Block Diagram of the 10/100/1000/2500 Ethernet MAC IP Core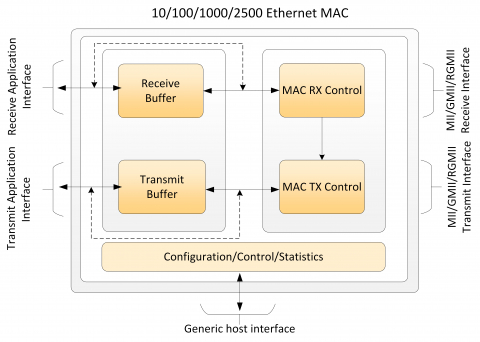 ---
View 10/100/1000/2500 Ethernet MAC full description to...
see the entire 10/100/1000/2500 Ethernet MAC datasheet
get in contact with 10/100/1000/2500 Ethernet MAC Supplier