You are here:
10 Gb/s full HW stack UDP/IP Transmitter/Receiver
10 Gb/s full HW stack UDP/IP Transmitter/Receiver IP block for high performance data transfers from embedded Ethernet based systems

In application areas such as Data Communication and Imaging, there is a need for increased transfer speeds to handle higher resolutions and higher acquisition rates. This implies more complex solutions in terms of FPGA and board design. This IP core is a real-time offload engine where the communication is processed and accelerated in HW – all the way from UDP to Ethernet Phy. An Ethernet PHY can be integrated in the FPGA enabling a direct connect to the fiber optical SFP+ transceiver.

With data transfer near line rate at theoretical maximum throughput, it is useful for sending large amount of data to a remote PC or host.
Features
Transmits UDP with IP packets up to 10Gb/s, with 10G Ethernet protocol to host

Receives UDP with IP packets up to 1Gb/s with 10G Ethernet protocol from host

ARP-table, number of entries can be selected

Programmable Source/Destination ports and IP/MAC/Default gateway address

A vendor specific integrated 10 Gb/s PCS/PMA PHY enables a direct connection to SFP+ cages

Supports the XGMII Interface to the Ethernet PHY

Payload data is transferred via the AXI4-Stream interface

Loopback at both AXI-Stream and XGMII interfaces are possible for debugging purposes

PCIe header interpretation possible, for tunneling of PCIe

Statistics counters and protocol filters

Implemented as general VHDL code, independent of FPGA vendor

Tested with Xilinx Ultrascale & Ultrascale+ and Intel NIC 10GB/s Ethernet board
Deliverables
VHDL source code (readable or encrypted) and testbench with stimuli and checkers

PC SW driver (Windows, Linux)

VHDL Simulation Test Benches with BitSim's Simulation Environment

User Guide
Block Diagram of the 10 Gb/s full HW stack UDP/IP Transmitter/Receiver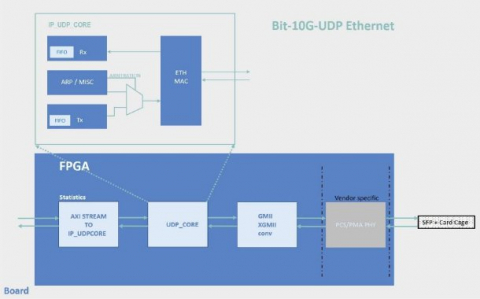 ---
View 10 Gb/s full HW stack UDP/IP Transmitter/Receiver full description to...
see the entire 10 Gb/s full HW stack UDP/IP Transmitter/Receiver datasheet
get in contact with 10 Gb/s full HW stack UDP/IP Transmitter/Receiver Supplier
Ethernet; MAC; IP; UDP; stack; off-load; offload; engin;e SyncE; AXI4-Stream; low-latency IP