You are here:
10 Gigabit Ethernet MAC IP Core
The 10 Gigabit Ethernet MAC IP is compliant with the Ethernet IEEE 802.3-2008 standard and provides an interface between AHB/AXI Bus and the 10 Gigabit Media Independent Interface (XGMII) using a powerful 64-bit Scatter Gather DMA. The 10 Gigabit Ethernet IP is designed for applications such as integrated networking devices, host bus adapters, PCI-Express Ethernet controllers, and Ethernet adapter cards.
Features
Full-duplex mode at 10 Gbps

Supports XGMII interface

Independent 64-bit scatter-gather DMA with big/little endian operation

PAUSE frame based flow control in full-duplex mode

MDIO/MDC management interface

802.3 compliant MIB, SNMP, RMON management support

Configurable transmit and receive FIFOs

Supports Jumbo frames
Benefits
Fully IEEE 802.3-2008 compliant core

Premier direct support from Arasan IP core designers

Easy-to-use industry standard test environment

Unencrypted source code allows easy implementation

Reuse Methodology Manual guidelines (RMM) compliant verilog code ensured using Spyglass
Deliverables
RMM compliant Synthesizable Verilog RTL core

EDA scripts

Test Environment

Documentation
Block Diagram of the 10 Gigabit Ethernet MAC IP Core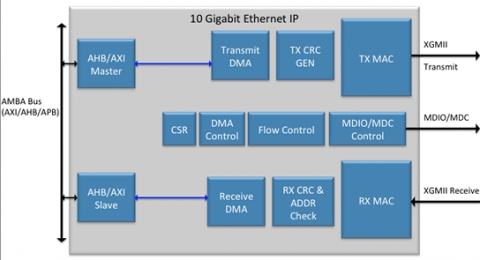 ---
View 10 Gigabit Ethernet XGMAC IP full description to...
see the entire 10 Gigabit Ethernet XGMAC IP datasheet
get in contact with 10 Gigabit Ethernet XGMAC IP Supplier