You are here:
10G/25G Ethernet TSN MAC
Comcores 10G/25G TSN MAC provides a complete IEEE 802.3 Ethernet Layer 2 solution with support for key TSN features including 802.1Qbu Preemption and 802.3br Interspersing Express Traffic. This enables the use of the MAC in high speed time-critical applications.
The MAC-core performs the Link function of the 10G/25G Ethernet Standard and is a low latency cut-through implementation reaching best in market results while still keeping size at a minimum.
The core is fully configurable and interfaces easily to 10G/25G PCS. IEEE1588 solution can optionally be included.
The Ethernet MAC Core, on the Client side, implements a 64-bit AXI-S interface for Express and Preemptable traffic respectively while having a standard XGMII interface on the PHY side.
Features
Delivers Performance

Designed to IEEE 802.3-2012 specification

Supports 802.1 Qbu and 802.3 br with extentions available

Ultra low latency of 19ns and compact implementation

Full duplex Ethernet interfaces

Highly Configurable

64-bit low latency Ethernet MAC

10G/25G data rates with cut-through supported

TSN features can be enabled/disabled independently

802.1 AS extention available

Feature Rich

Deficit Idle Count for maximum data throughput supported

In-Band FCS supported

Comprehensive statistics gathering

Supports VLAN, jumbo frames and many other options

Independent TX and RX Maximum Transmission Unit (MTU)

Very easy integration with standard AXI4 or APB interface

Silicon Agnostic

Designed in VHDL-93 and targeting any RTL implementation like

ASICs, ASSPs and FPGAs
Deliverables
The IP core comes deeply verified and with an extensive documentation that, among others, includes Product Brief and User Manual. The core will by default come in an encrypted format. Source code option is available.
Block Diagram of the 10G/25G Ethernet TSN MAC IP Core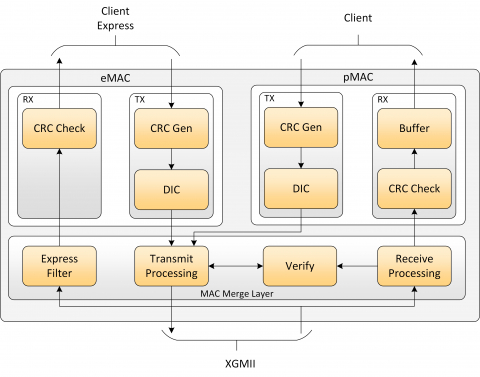 ---
View 10G/25G Ethernet TSN MAC full description to...
see the entire 10G/25G Ethernet TSN MAC datasheet
get in contact with 10G/25G Ethernet TSN MAC Supplier