You are here:
10Gb+ Ethernet MAC
The 10Gb+ Ethernet Media Access Controller (MAC) transmits and receives data between a host processor and an Ethernet network. The main function of the 10Gb+ Ethernet MAC is to ensure that the Media Access rules specified in the IEEE802.3ae standard are met while transmitting a frame of data over Ethernet. On the receive side, the Ethernet MAC extracts the different components of a frame and transfers them to higher applications through a FIFO interface.
Features
Compliant to IEEE 802.3-2005 standard, successfully passed University of New Hampshire InterOperability Laboratory (UNH-IOL) 10GbE MAC hardware tests

Supports standard 10Gbps Ethernet link layer data rate

Supports rates up to 12Gbps by over-clocking

64-bit wide internal data path operating at 156.25MHz to 187.5MHz

XGMII interface to the PHY layer (using IODDR external to the core)

XAUI interface to the PHY layer (using PCS/SERDES external to the core)

Simple FIFO interface with user's application

Optional Multicast address filtering

Transmit and receive statistics vector

Optional statistics counters of length from 16 to 40 bits for all devices (statistic counters are external to the core)

Programmable Inter Frame Gap

Supports:

Full duplex operation

Flow control using PAUSE frames

VLAN tagged frames

Automatic padding of short frames

Optional FCS generation during transmission

Optional FCS stripping during reception

Jumbo frames up to 16k

Inter frame Stretch Mode during transmission

Deficit Idle Count
Block Diagram of the 10Gb+ Ethernet MAC IP Core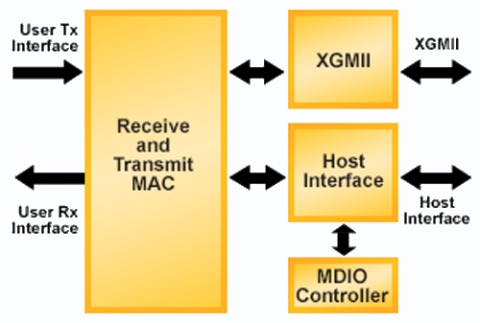 ---
View 10Gb+ Ethernet MAC full description to...
see the entire 10Gb+ Ethernet MAC datasheet
get in contact with 10Gb+ Ethernet MAC Supplier