You are here:
12-Bit 1 MS/s DAC with voltage output
The IP consists of a 12 bit current steering DAC. The DAC is connected to a transimpedance amplifier(TIA) in order to provide a voltage output signal. The amplifier can be adapted for different applications to optimize for performance, power consumption or output load of the IP.

The digital input data is saved to an internal register and provided immediately to the output.

The IP uses a single current reference input. A matching current reference cell can be provided. 7 bit gain and offset trimming is included to adapt for process variations.

The DAC is silicon proven using the AMS C18 process. Measurement results are available from evaluation and volume production. One application of the IP is an industrial sensor ASIC for safety critical applications.

Fraunhofer IIS provides a detailed documentation and support for the IP integration.
Modifications, extensions and technology ports of the IP are available on request.
Features
Resolution: 12 bit

Conversion rate: 1 MS/s

Power consumption: 15 mW @ 3.3 V

Integral non-linearity: +/- 1.5 LSB

Diff. non-linearity: +/- 0.7 LSB

Supply voltage: 3.0 V – 3.6 V

Operation clock: 0 – 1 MHz

Output voltage range: 1.8 V – 2.8 V

Output load: >= 100 Ohm

Temperature range: -40 °C – 125 °C
Benefits
Low design risk due to silicon proven design

Easy to use input due to integrated output buffer

Robust operation across full temperature range from -40 °C up to 125 °C

Simple integration due to integrated reference drivers and reference trimming DAC
Deliverables
GDSII data

Simulation model

Documentation

Silicon validation report

Integration support
Applications
Block Diagram of the 12-Bit 1 MS/s DAC with voltage output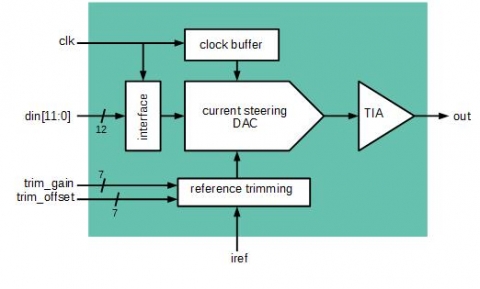 ---
View 12-Bit 1 MS/s DAC with voltage output full description to...
see the entire 12-Bit 1 MS/s DAC with voltage output datasheet
get in contact with 12-Bit 1 MS/s DAC with voltage output Supplier