You are here:
12 Bit 54 kS/s Cyclic ADC
This cyclic ADC, based on redundant-signed-digit (RSD) conversion, is optimized for power efficiency and high accuracy. It provides 12 bit resolution for sampling frequencies up to 54 kS/s for continuous input signals.

This single ended ADC is designed to convert input signals with input swing of 1.9 V. The resolution is configurable (12 bit, 16 bit). Reference voltages can be generated on-chip or applied from outside.

The ADC IP includes serial-to-parallel interface (optional), reference voltage generation and buffers and high-precision trimmed bandgap reference (optional).

Different on-chip sensors (ambient light, temperature) and sensor frontends (instrumentation amplifier) are available.

The ADC is silicon proven using the XFAB XH018 process. Measurement results and
samples are available.

Fraunhofer IIS provides a detailed documentation and support for the IP integration. Modifications, extensions and technology ports of the IP are available on request.

Features
Resolution: 12 bit

Conversion rate: up to 54 kS/s

Power consumption: 370 μW @ 2.4 V

Integral non-linearity: +/- 1.6 LSB

Supply voltage: 2.4 V – 3.6 V

Operation clock: up to 650 kHz

Input voltage range: 1.9 V

Operating temperature -40 – 125°C
Benefits
Accelerated design service

Design safety (first-time-right)

Customer-specific flexible IPs

Automated DfR and verification

Seamless technology migration
Deliverables
GDSII data

Simulation model

Documentation

Integration and customizing support
Block Diagram of the 12 Bit 54 kS/s Cyclic ADC IP Core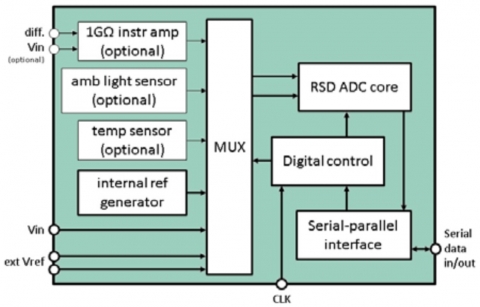 ---
View 12 Bit 54 kS/s Cyclic ADC full description to...
see the entire 12 Bit 54 kS/s Cyclic ADC datasheet
get in contact with 12 Bit 54 kS/s Cyclic ADC Supplier