You are here:
12-bit SAR ADC 1.5 MSPS
The TI-12SAR03/1M is a 12-bit fully differential successive approximation analog-to-digital converter (SAR ADC). Its architecture provides good common-mode, supply and substrate noise rejection and typical conversion rate of 1.5 MSPS. The TI-12SAR03/1M operates with external reference voltages and separate supplies and grounds for analog and digital parts. Implemented high-resolution 12-bit digital-to-analog converter (DAC) uses binary weighted capacitor architecture with two segmented arrays allowing to decrease the total input capacitance. Input bootstrap switches provide high linearity and low on-resistance at broad ranges of supplies and operating temperatures. Internal current source with several current modes may be used to set the desired speed/power consumption ratio of the ADC: lower bias currents may be used for lower conversion frequencies.
Features
12-bit resolution

Sample rate: 1.5 MSPS and higher

INL: ±1.5 LSB

DNL: ±0.9 LSB

Analog supply voltage: 1.8 V

Digital supply voltage: 1.8 V

ENOB at 50 kHz input: 10.5 bits

SNR: 68 dB

SINAD: 65 dB

THD: 0.04%

Operating temperature range: -40 °С to 175 °С
Benefits
Fully differential analog input

Separate analog and digital power supplies

Adjustable speed/power consumption ratio

Internal current source with different current modes
Deliverables
Datasheet

GDSII database

Customer support
Applications
Data acquisition systems

Portable instrumentation

Motor control

Industrial process control

Sensors and controls
Block Diagram of the 12-bit SAR ADC 1.5 MSPS IP Core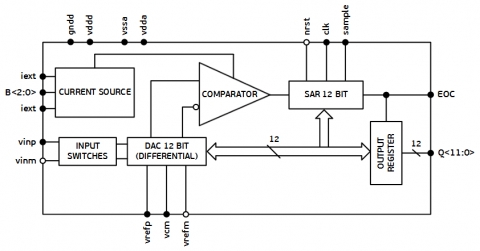 ---
View 12-bit SAR ADC 1.5 MSPS full description to...
see the entire 12-bit SAR ADC 1.5 MSPS datasheet
get in contact with 12-bit SAR ADC 1.5 MSPS Supplier