You are here:
15 Bit 192 kS/s Sigma-Delta ADC
The ADC IP is a general-purpose sigma-delta converter and it is configurable for conversion speed and power consumption with adaptable oversampling ratio.

It is built using typical second order architecture using correlated-double-sampling method. The target application is sampling of transient input voltages with 8k S/s with
low-power and 192 kS/s respectively.

The ADC IP includes reference voltage generation (optional) and 4-to-1 input multiplexer (optional) providing 4 differential input channels.

The ADC is silicon proven in Automotive mass production using the XFAB XH018 process. Measurement results and samples are available.

Fraunhofer IIS provides a detailed documentation and support for the IP integration. Modifications, extensions and technology ports of the IP are available on request.

---
View 15 Bit 192 kS/s Sigma-Delta ADC full description to...
see the entire 15 Bit 192 kS/s Sigma-Delta ADC datasheet
get in contact with 15 Bit 192 kS/s Sigma-Delta ADC Supplier
Block Diagram of the 15 Bit 192 kS/s Sigma-Delta ADC IP Core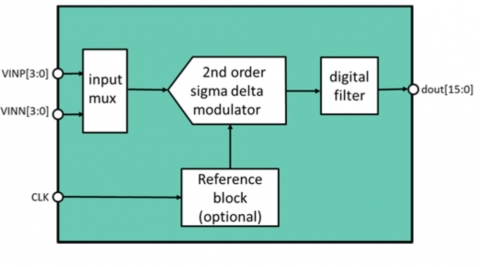 15 Bit Sigma-Delta ADC IP