You are here:
180nm 13-bit Sigma-Delta ADC
The TRV106TSM180BCD IP is a 1.8V low-power 32MHz single-bit switched-capacitor ∆Σ Modulator-based 7.8125kHz-to-62.5kHz-Nyquist-rate ADC with programmable Decimation Rate and implemented in TSMC Low-Power 180nm CMOS process technology. Its 13-bit performance makes it suitable for use in high-performance wireless/wireline sensor interface, fine-line Instrumentation and Internet-of-Things integrated circuit subsystems (WSN, BAN, IoT).
Features
Integrated Single-Channel DS Modulator

Integrated Common-Mode Reference Generator

Integrated Feedback DAC Positive and Negative Reference Generator

Integrated Programmable Decimation Filter
Deliverables
Behavioural Models

Layout Abstract View

Timing Models

GDSII Layout Database

Netlist for LVS verification

Usage and Integration Guidelines

Databook
Block Diagram of the 180nm 13-bit Sigma-Delta ADC IP Core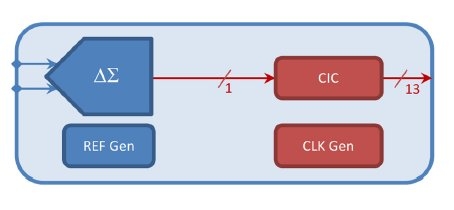 ---
View 180nm 13-bit Sigma-Delta ADC full description to...
see the entire 180nm 13-bit Sigma-Delta ADC datasheet
get in contact with 180nm 13-bit Sigma-Delta ADC Supplier