You are here:
2.5 Gb/s Digital RF Up Converter for AD9739A
The MVD Upconverter core is a drop-in module that converts multiple baseband I-Q signals to analog RF signal with AD9739 or AD9739A 14-bit RF DAC sampled at up to 2.5 GHz.

It includes the following functions:
An Interpolation x16 + RF Modulation per each independent RF channel
An Output Processing module which combines up to 32 independent RF interpolator channels
A clock management module
An OSERDES module which connects the LVDS IO to the RF DAC
A CPU BUS to configure the parameters of the Upconverter
Features
Drop-in module for Spartan-6, Virtex-6, Artix-7, Kintex-7, Virtex-7, Zynq FPGAs

Provides direct RF synthesis for baseband I-Q signals (DC to 1.25 GHz)

Support for 2nd and 3rd Nyquist zone for carriers frequencies up to 3GHz+

Includes clock management module

Very low FPGA resources required

32 or 64 MHz minimum bandwidth per RF channel

In-band ripple < 0.2 dB and SNR > 75dB

Carrier frequency dynamically adjustable with sub-Hertz precision

Dual 14-bit LVDS output busses directly tied to AD9739/A input data pins (compatible with 11-bit for AD9737A)

Can be modified for using others RF DAC (please contact MVD)

Fully synthetizable RTL VHDL design (not delivered) for easy customization
Deliverables
Datasheet

Netlist for core generation

VHDL top file

VHDL source code : can be delivered as an option under NDA and other specific clauses
Applications
The Upconverter for AD9739/A is recommended for digital TV transmission and other telecommunication systems requiring low noise and adjustment free RF stages.
Block Diagram of the 2.5 Gb/s Digital RF Up Converter for AD9739A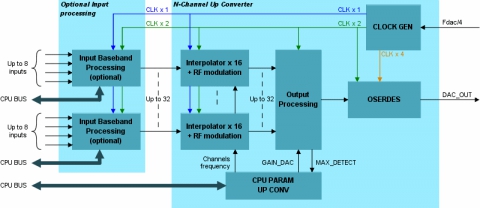 ---
View 2.5 Gb/s Digital RF Up Converter for AD9739A full description to...
see the entire 2.5 Gb/s Digital RF Up Converter for AD9739A datasheet
get in contact with 2.5 Gb/s Digital RF Up Converter for AD9739A Supplier