You are here:
2D Edge Detector
Video edge detection is the process of calculating gradients (rates of change) in pixel values in an incoming frame.

The 2D Edge Detector IP core detects edges in incoming video frames using the Sobel or Prewitt algorithms. Its flexible architecture supports a wide variety of video frame sizes on Lattice devices. A simple I/O handshake makes the core suitable for either streaming or bursty input video data. Coefficients may be set at compile time, or updated in-system via a simple memory interface. Dynamic zoom and pan functions are optionally provisioned at compile time.
Features
Single color plane input

Configurable input data width

Dynamically variable input frame size

Dynamic active region selection

Dynamic selection between Sobel and Prewitt algorithms

Dynamic detection threshold modification
Block Diagram of the 2D Edge Detector IP Core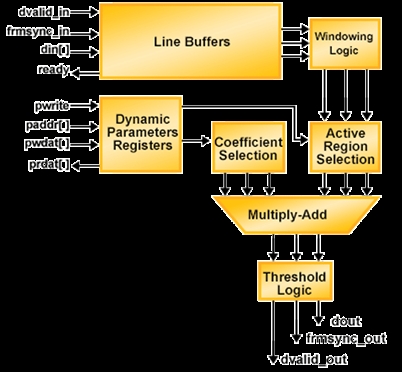 ---
View 2D Edge Detector full description to...
see the entire 2D Edge Detector datasheet
get in contact with 2D Edge Detector Supplier