You are here:
2D Scaler
The 2D Scaler IP core converts input video frames of one size to output video frames of a different size. Its flexible architecture supports a wide variety of scaling algorithms. The highly-configurable design takes advantage of the embedded DSP blocks available in Lattice FPGAs. A simple I/O handshake makes the core suitable for either streaming video or bursty input video data. In-system input and output frame size update is possible on a frame basis.
Features
Support for multi-color plane (RGB and YCbCr4:4:4), serial filtering

Dynamic input and output frame size updating

Supports multi-scaling algorithms

Configurable number of filter taps for Lanczos coefficient set

Configurable number of phases for Bicubic, Mitchell and Lanczos coefficient sets

Configurable pixel data width

Configurable coefficient width

Configurable parameter bus width

Selectable memory type for line buffer and coefficient memories

Option for sharing vertical and horizontal filter coefficient memories
Block Diagram of the 2D Scaler IP Core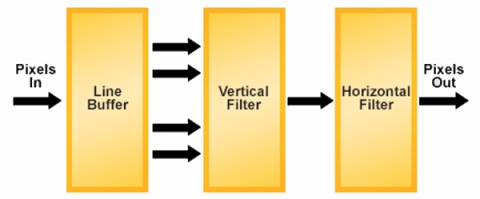 ---
View 2D Scaler full description to...
see the entire 2D Scaler datasheet
get in contact with 2D Scaler Supplier