You are here:
3.08 Gbps 4-Channel LVDS Transmitter
The MXL-LVDS-SR-TX+ is a high performance 4-channel LVDS transmitter implemented using digital CMOS technology. With a maximum transmit clock frequency of 110 MHz, it converts 28 bits of CMOS data into four LVDS data streams. A phase-locked transmit clock is transmitted in parallel with the data streams over a fifth LVDS link. The circuit is designed in a modular fashion and desensitized to process variations resulting in a robust design.
Features
Compatible with TIA/EIA-644 LVDS Standard

49 Mbps - 770 Mbps bandwidth/channel

Up to 3.08 Gbps data throughput

7-bit serial data transmitted per pixel clock per channel

4 data channels and 1 clock channel

Configurable extension to 8 data channels to support Dual Pixel mode

PLL requires no external components

Analog, Digital DFT and Loopback testability support
Benefits
Configurable between single-pixel mode with one clock and 4 data lanes or dual-pixel mode with one clock and 8 data lanes, using two LVDS PHY instances. This gives users flexibility to support different types of displays

Comprehensive embedded DFT features for allowing cost-effective high- volume manufacturing tests

Supports full-speed loopback testability with minimal area overhead for high-volume manufacturing tests

One RX are used to test all 4 Transmitters to minimize area overhead

Two different loopback modes allow isolation of faults and defects

Analog test bus (ATB) for sensing and forcing internal analog voltages and currents

Digital test bus for observing PLL clocks and PHY clock outputs
Deliverables
Data Sheet

GDSII

LVS Netlist

Integration Guidelines

Synopsis timing Model

Behavioral Model

LEF File for P&R
Applications
Automotive

Camera

IoT

Virtual Reality

Augmented Reality
Block Diagram of the 3.08 Gbps 4-Channel LVDS Transmitter IP Core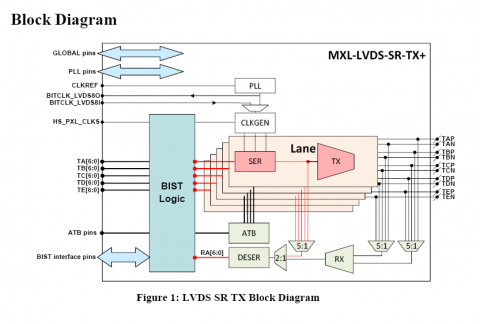 ---
View 3.08 Gbps 4-Channel LVDS Transmitter full description to...
see the entire 3.08 Gbps 4-Channel LVDS Transmitter datasheet
get in contact with 3.08 Gbps 4-Channel LVDS Transmitter Supplier