You are here:
4-to-1 RF Multiplexer
TI-RF-MUX is a 4-to-1 RF multiplexer designed with an internal current feedback output amplifier which gain can be adjusted externally. There is a possibility of optional usage of two 4-to-1 devices as a one 8-to-1 multiplexer. The device architecture allows to switch off the current source power that sufficiently reduces the quiescent current. ESD protection provided.
Features
3 dB bandwidth of 200 MHz

Total harmonic distortion: -78 dB

Disable isolation: 120 dB

Channel switching time: 10 ns

Output settling channel ON time: 11 ns

Output settling channel OFF time: 8 ns

Open-loop voltage gain: 14000 V/V

Gain matching: 0.02%

Quiescent current: 32 mA
Benefits
Externally adjustable gain

Internal output amplifier with current feedback

Input stage cascade implemented in CMOS transistors providing low input bias current

Option of using of two 4-to-1 multiplexers as an 8-to-1 one
Deliverables
Datasheet

GDSII database

Customer support
Applications
Pixel switching for «Picture-in-Picture»

LCD and Plasma displays

Video Routers
Block Diagram of the 4-to-1 RF Multiplexer IP Core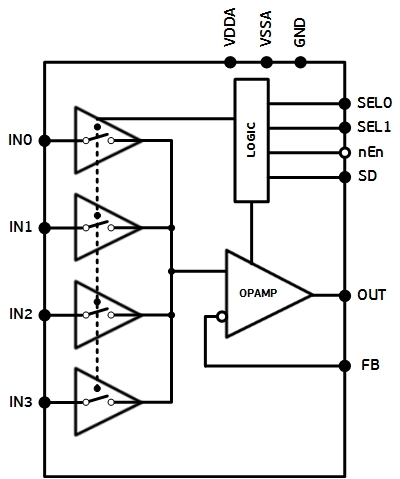 ---
View 4-to-1 RF Multiplexer full description to...
see the entire 4-to-1 RF Multiplexer datasheet
get in contact with 4-to-1 RF Multiplexer Supplier